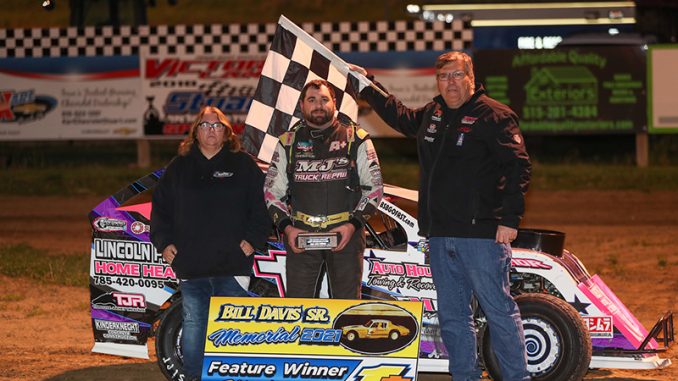 SALINA, Kan. – Justin Kinderknecht made the decision last year that when racing resumed full swing, he'd travel more often to test his on-track skills against more drivers from more parts of the country. 
The IMCA STARS Mod Lite driver from Salina, Kan., has passed every test so far, starting in Florida and most recently during a quick midweek trip to Iowa.
"You can't get better racing the same guys at the same tracks," Kinderknecht reasoned. "I made it a goal last season to travel more and see how I stacked up. Any time you can run top five at somebody else's track it's a good night."
He won the race of champions and posted a pair of top four finishes in Sugar Bowl Winter Nationals starts at Hendry County Motorsports Park in February before racing closer to home at Valley Speedway and Salina Speedway.
Kinderknecht then racked up three straight checkers, at 81 Speedway before venturing to Iowa and on back-to-back nights May 5 at Stuart Speedway's Bill Davis Sr. Memorial and May 6 at Marshalltown Speedway's Dale DeFrance Memorial.
"That was the first time I had raced in Florida. Mike Kennedy (from Boone) asked me if I wanted to go. I was able to check it off my bucket list and it was a pretty decent trip all in all," he said. "The trip to Iowa was a last-minute deal. I knew Stuart was going to race on Wednesday when I saw it would be paired with Marshalltown, I knew I could take a day and a half off work and get a couple races in."
He ran third in his one previous Mod Lite start at Marshalltown two or three years ago and won last year's Clint Walrod Memorial at Stuart.
"Stuart is one of my favorite tracks," he said. "I wish I could race there more often but it's five hours from home."
The second generation driver got to travel around the Midwest with his father Earl and later raced a Late Model of his own around Kansas. Better at winning features and track championships than at keeping his own statistics, Kinderknecht will support his hometown track Salina Speedway and 81 while making plans to catch Cornbelt Clash dates at Boone and Stuart over the Memorial Weekend.
"The best thing about this class for me is that I'm by myself a lot and don't need a lot of help. Pretty much a one car garage is all you need." He said. "These cars are affordable and user friendly and that's what I enjoy most about them."