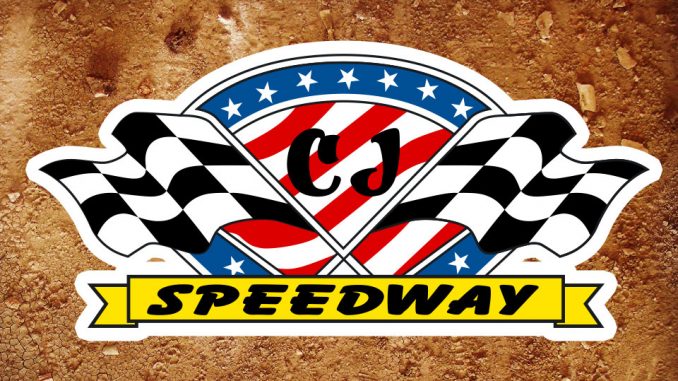 By Jerry Mackey 
COLUMBUS JUNCTION, Iowa (May 7) – Friday provided another thrilling night of racing at CJ Speedway.
The headliner of the night was the IMCA Sunoco Stock Car feature which had the fans on the edge of their seats as the non-stop feature saw a pack of 10 drivers in the early going trying to all battle to the front.
Dallon Murty made a rare appearance at CJ, started 12th and joined the gaggle of drivers in the charge to the front. Murty broke out of the pack by overtaking early leader Dustin Griffiths as the 20 lap main event passed the midway point.
Murty stretched the lead as the battle for second was waged again involving several drivers. At the checkers it was Johnny Spaw taking second just ahead of David Brandies and Griffiths held on for fourth.
Murty stated in victory lane " I just love coming to CJ, because you know the track is always going to be very racy and if you have the right setup you can race to the front."
Kurt Kile took advantage of the outside front row start in the IMCA Modified feature and cruised to a comfortable win in the 20-lap feature. Kile led the non-stop feature flag-to-flag in scoring the win over Dakota Simmons and Jarrett Brown, who had battled to the front from a fourth row start.
The Karl Kustoms Northern SportMod feature win went to Logan Anderson. Anderson has had a rough go in the early portion of the season but proved he will be a force to be reckoned with in the 2021 season at CJ. Anderson came from the 10th starting position to score the win ahead of Colton Livezy and Shane Paris.
The Mach-1 Sport Compact feature provided another very close finish. Billy Cain led the feature every lap but the win was anything but easy as Cain held off a hard-charging Cody Staley by less than a car length at the finish line.
Jake Benischek raced to the front from a sixth row start to take third.
The action-packed IMCA Sunoco Hobby Stock main event provided plenty of slam-bang action on Friday night. When the checkers flew it was Daniel Wauters scoring the win ahead of Benischek. Rick VanDusseldorp advanced six spots to take third.