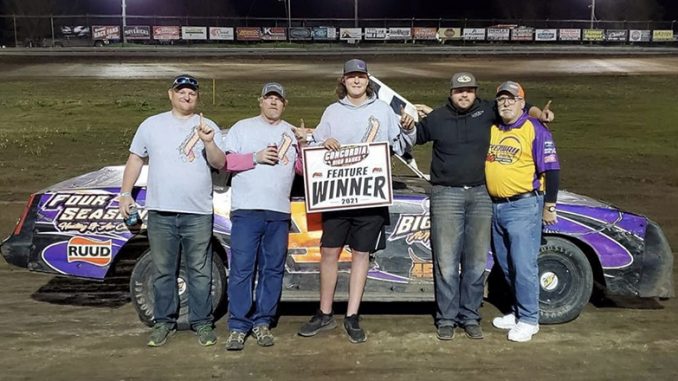 McPHERSON, Kan. – Opportunities to study sports management and play baseball got Boone Evans interested in attending a Kansas college seven-plus hours from his Bullard, Texas home.
What sealed the deal was that he'd get to race three times every weekend while he was doing it.
Evans, a freshman relief pitcher at McPherson College in central Kansas, has been a weekly regular at Salina Speedway, RPM Speedway in Hays and at Concordia High Banks, where he earned his IMCA Sunoco Stock Car career-first feature win on April 25.
"It's a dream life. I couldn't ask for anything better," said Evans, son of long-time driver Travis Evans and the one who suggested the school choice because Boone could race so often. "I love the school, I love my coaches and I have three tracks where I can race Friday, Saturday and Sunday and not have to travel more than an hour and 45 minutes. Everything was just meant to be."
"I can get in a full weekend of racing and it's a blast," he added. "It's nice that I don't have to travel three hours to get to a track. This state is awesome for racing."
Kansas is friendly, too. Evans got help from Eric Bartels, who built cars for his father years ago, getting his own 2021 Jet Chassis ready, but didn't know anyone when he towed north.
"I didn't know a soul coming up here but I've met some really cool people. I couldn't tell you how many people have added me on Facebook," Evans said. "The racing community here is like a big family. You don't realize how many people you know until you go somewhere and don't know anybody."
Coaches at McPherson didn't know the Brook Hill School graduate was a dirt track racer when they contacted Evans. He was unable to tour the school because of the Covid-19 pandemic but after a telephonic meeting with Head Coach Bryan Moses, he knew McPherson was the place he wanted to be. 
"You definitely have to be an athlete to compete in baseball or racing. Both sports can humble you," said Evans. "Racing has helped me be a better pitcher. It's taught me how to calm down and take it easy when I'm on the mound."
Evans now keeps his car in a former lumber yard building in nearby Hillsboro. To the amusement of his coaches and teammates, he loads up and drives straight from practice on Fridays to the track.
"We've been getting better," said Evans, also the May 2 winner at Concordia. "We battled heating problems early but we're getting everything straightened out and finding out what the car likes and what it doesn't." 
Evans started racing go karts at the age of eight, about the time he started pitching in Little League. He grew up, literally, in both sports. At 6-5 and 225 pounds, he has custom made containment seats that allow him to fit in the cockpit of the Stock Car and the Smiley's Racing Products Southern SportMod that he'll race back in his home state this summer.
"Sports Management is a four-year program so I'll race in Kansas when I'm there the next three years," Evans said. "I've thought about racing a Northern SportMod, too, but with baseball and class it's tough to handle one car. When I head home after finals I plan to race the Stock Car and Southern SportMod at Kennedale and Boyd."
He's also hoping to see a lot of the Midwest this summer, notably the track he shares a name with.
"Over the summer I want to race in South Dakota and Nebraska maybe, Kansas and Iowa definitely," said Evans, noting that his grandmother suggested Boone before he was born and that he was not actually named after Iowa's Action Track. "A trip to Boone would definitely be special for me."