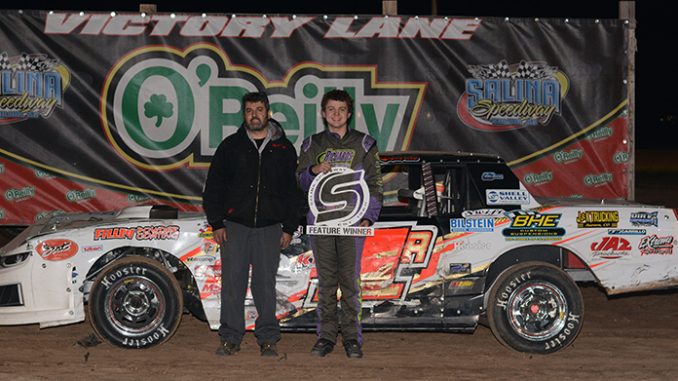 By Greg Soukup
LINCOLN, Neb. – Cade Richards, the 2019 IMCA national Karl Kustoms Northern SportMod rookie of the year, spent most of 2020 competing in his SportMod and IMCA Sunoco Stock Car.
To say that he's starting off the 2021 season well in the Stock Car would be an understatement. He kicked off the year with a pair of third-place finishes, then brought it home in the top spot twice.
On Friday, April 23 Richards made the trip to Salina Speedway. Starting his heat from the inside of the third row, he took the checkers. Then, in the main event he started fourth row inside and in a few laps got the lead and checked out for the clean sweep.
"At first I was just trying to move up in there. I think it was lap six when I got up to fourth," he said. "Eventually I got up to second and I and the leader had a real battle going on. I finally got around him and just took off from there for the win."
The following night, the team made the short tow to Eagle Raceway. There was a strong field of 26 Stock Cars in the pits, with some truly heavy hitters present, but Richards came through. He finished his heat in third right behind 2019 national champion Jordan Grabouski.
He got lucky in the redraw, pulling the two pill, starting him outside the front row. He moved to the lead on lap seven. Grabouski advanced to second three laps later and began hounding Richards.
Kyle Vanover joined the fray, taking the third spot with four to go and passed Grabouski on the white flag lap. Richards kept his cool, hit his marks and finished in the top spot.
In his post-race interview, he said "We've got the car working really well on these high banked tracks. We're really improving and getting it closer to where we want it, so hopefully we can keep building off my two wins this week and keep it going."
For this season he plans on concentrating on US30 Speedway Thursdays and Eagle Raceway Saturdays with both the SportMod and Stock Car and Salina Speedway on Fridays with the Stock Car. If scheduling allows, he would like to defend his championship at Dawson County Raceway.
"In the future, we'll keep building our own cars, trying different things. I do have some opportunities to race a Sprint Car also that I really want to get into, but we'll have to see how that goes," he said.
This past weekend he recorded a third place finish at US 30 in the Stock Car and a fifth in the SportMod, then a second in the Stock Car at Eagle behind Grabouski and a seventh in the SportMod.
After the Stock Car feature, Grabouski said "We need to slow Cade down a little bit I think. He's a heck of a young racer and it's really cool to battle with him like that. I really thought I got beat by him tonight, but I hit the top of three and four on the last lap perfectly and beat him by a car length or so."
With the start he's had so far this year, I think he's got a very bright future ahead of him. Keep an eye out for this young man, he's going places!