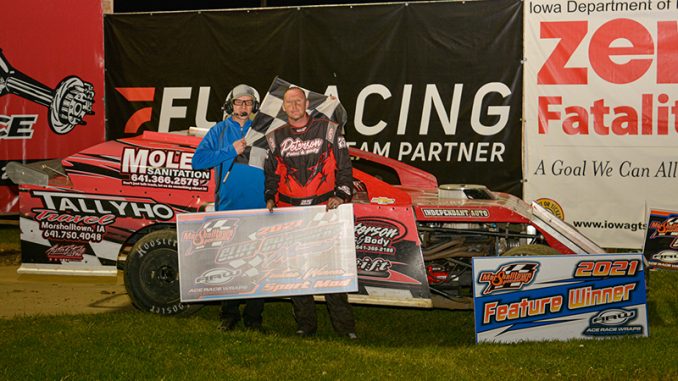 By Joyce Eisele
MARSHALLTOWN, Iowa (April 30) – It was UAW Local 893 and Cliff Chambers Memorial night at the Marshalltown Speedway Friday.
Josh May took home the trophy in the IMCA STARS Mod Lite 15-lap event, leading all but the first lap of the feature. May started fourth, got to the front quickly and had no trouble in keeping a substantial lead throughout the race. He finished well ahead of second place Joel Huggins. Third went to Randy Bryan.
Tony Olson led the first seven laps of the Karl Kustoms Northern SportMod main with Johnathon Logue in hot pursuit. After several challenges, Logue made it stick and took over the top position on lap seven. Olson would not go away, however, momentarily taking back the top spot, only to have Logue snatch it back. They continued to battle hard and their joisting for position resulted in them both spinning out low in corner four with just three laps remaining.
Travis Peterson was the happy recipient of the top spot when the race restarted. It was not an easy run to the finish as he was hounded by last week's winner Kyle Olson, and Austin Schrage, but held on to the top spot and was first to the checkers and the win. Austin Schrage started 11th and took the runner-up position and Kyle Olson started 12th and finished third.
Kaden Reynolds, last week's winner in the IMCA Sunoco Hobby Stock 20-lap feature, led most of the event and went on to capture back-to-back wins. Braden Richards started 19th, finished second and took hard charger recognition of the night. Third was Jeremiah Andrews.
Steve Meyer made it look easy on his way to the win in the 20-lapper for the IMCA Sunoco Stock Cars. He flew from starting eighth and into the lead by lap three, took to the lip of the track, and pulled away for an easy win. Dallon Murty, came from ninth starting spot, to finish in the runner up spot. Shawn Ritter started 10th, ran up front all race long and finished third.
The nightcap was the IMCA Modified main event and transplant from Santa Maria, Calif., Dylan Thornton got to step into the Marshalltown Speedway victory lane for the very first time. He led most of the feature easily to make his first visit to the speedway's winner's circle. Joel Rust ran out of time in his attempt to catch the leader and had to settle for second place. Jared VanDeest took third.
Up next at Marshalltown Speedway will be the Dale DeFrance Memorial on Thursday, May 6. The IMCA Sunoco Late Models will be the headliners, along with the IMCA Modifieds, Stock Cars, Northern SportMods, Hobby Stocks and STARS Mod Lites. There will not be racing on Friday May 7.