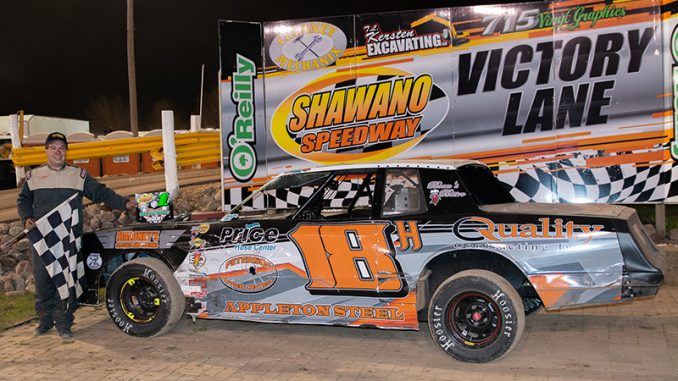 By Dave Buss
SHAWANO, Wis. (May 1) – On Saturday night, Shawano Speedway celebrated its Night of Champions, honoring the 2020 championship class.
Webster's Dictionary defines a champion as 'someone who fights or speaks publicly in support of a person, belief, cause.'
Before the races, another champion's life was honored as Bobby Bennett was remembered. Although Bennett never won a track championship at Shawano, it was only appropriate to honor his life on the Night of Champions.
The IMCA Modifieds took to the track to open the features with Mike Mullen trying to extend his season-opening win streak to three. Kevin Feck looked to be the man to end the streak early on as he led the opening five laps.
Further back in the pack, Andy Karl and Marcus Yarie, along with Jerry and Konnor Wilinski were waging a spirited battle with three-wide racing and competing slide jobs. Meanwhile, Mullen was dicing his way forward and with a power move grabbed second on lap six.
Riding his momentum, Mullen took his spot at the lead on lap eight and continued his early season domi­nance with his third win in three weeks of racing. Feck finished a solid second with Yarie third and Konnor Wilinski besting his dad Jerry for fourth.
The racing in the IMCA Sunoco Stock Car division is almost worth the price of admission by itself each and every night and this night was no exception. Proving you can race four-wide on the back stretch, three wide in the corners and just about anywhere on the track, drivers in the division put on a show.
Kevin Hebbe grabbed the lead on lap seven, wrestling the spot from Shawn Wagner. Hebbe dominated the second half of the race to pick up his first feature win.
While that would normally be the end of the recap, not on this night. Behind Hebbe, Trent Nolan, Chummy Arneson, Jeremy Christians and Travis Van Straten showed why this class is 'Too tough to tame.' When the dust settled, Arneson took second, Nolan third and Van Straten was fourth after coming from the 'B' main and starting 16th.
The Karl Kustoms Northern SportMods have been putting on great show each week themselves and Zach­ary Raab was up to every restart to lead the event. Behind Raab, Tyler Sobiescyk, Teagan Wudstruck and Jeffery Teske were battling it out. After the last caution slowed the pack, the event was determined by a green, white, checkered finish.
Raab looked to maintain that top spot and if the speedway would have been five feet shorter he would have had the win. Teske rode the high side momentum to sneak past Raab at the line for the win. Raab settled for second with Sobiescyk third and Wudstruck fourth.