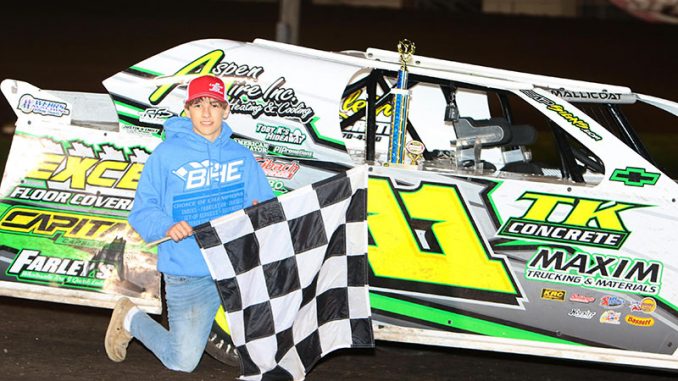 BOONE, Iowa – Izac Mallicoat's first Karl Kustoms Northern SportMod championship preceded his first win in the IMCA division by not quite two weeks. 
The top driver in point standings for the four-race Frostbuster, Mallicoat won his first feature at hometown Boone Speedway on April 17, holding off Johnathon Logue.
The magnitude of the accomplishment didn't escape the 14-year-old, a baby in the stands when his father Jason was crowned SportMod champion at the 2006 IMCA Speedway Motors Super Nationals fueled by Casey's.
"It was pretty exciting. It was cool to get my first win at Boone, which I think is one of the hardest tracks to win at," said Mallicoat, an eighth grader at Boone Middle School. "I never thought I'd get my first win so soon."
Mallicoat was a grade schooler when he started racing go karts on dirt and asphalt, progressing to winged carts before getting his feet wet in a SportMod.
His feature win came in his ninth start of the season.
Lonnie Hodges led early on before Mallicoat slipped into the lead on lap three. Logue, twice the track champion at Boone and a three-time Super Nationals king, was on his tail by lap four and threw one challenge after another at the leader, to no avail.
"We had a lot of family and friends there so I could hear people cheering when I pulled in. My dad was kind of emotional," he said. "Then we loaded up, went home and had a celebration in the shop."
Like every race car driver at every level, Mallicoat hopes many more such celebrations follow.
"I've been around racing all my life. I think it was meant to be," he said. "I would like to be able to make a living racing. I feel like we'll work our way up to a Modified and keep making progress. You never know what will happen but we want to be the best in what we're in and go from there."