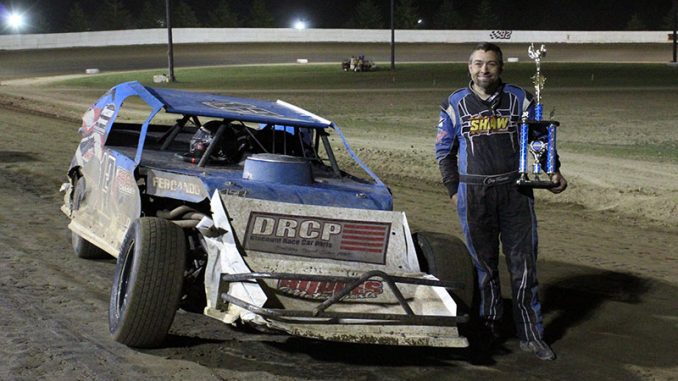 By Ben Deatherage
ELMA, Wash. (April 17) – Engines fired up for the first time in 2021 at Grays Harbor Raceway on Saturday with 21 IMCA Modifieds contesting the evening's main event.
Tyson Blood moved his way into first place on the first lap. Devan West hunted down Blood in lapped traffic and overtook him for the lead. However, the pass was negated due to a yellow flag coming out before the lap could get registered, handing the top spot back to Blood.
Several late-race restarts turned up the intensity for Blood. A lap 23 restart resumed the race and set up an opportunity for Grey Ferrando to have a shot at the coveted position.
Despite starting all the way back in 18th, Ferrando worked his way patiently and methodically towards the front. As the white flag dropped, Ferrando found the opening he needed to challenge Blood.
The two raced each other hard but it was Ferrando who had the advantage coming off the second corner and down the back straightaway. Ferrando went on to become the first driver to win an IMCA sanctioned event since 2016 in the state of Washington and his first for the 2021 campaign.
Blood and Brian Harding were second and third in the finishing order. Devan West wound up fourth over Scott Miller.