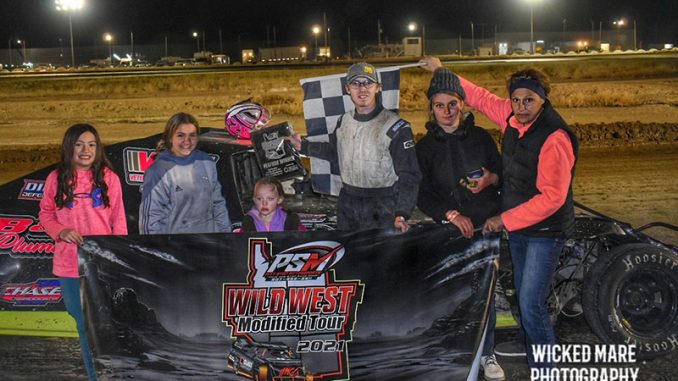 BATTLE MOUNTAIN, Nev. (April 16-17) – Like he does after every race, Cody Blixt had a chat with crew chief and father Kelly Saturday night at Battle Mountain Raceway.
What was different this time is that Cody had just won his first IMCA Modified Pitt Stop Motorsports Wild West Tour feature, while his dad was in Kuwait, recently deployed with the National Guard.
"We FaceTimed after I went through tech," explained Blixt, the first Montana driver to win a Wild West Tour event and new to the Fast Shafts All-Star Invitational ballot after taking the $1,000 checkers. "He watched on IMCA.TV and was thrilled that I won. He told me how well I drove."
After a 10th place finish Friday night, Blixt drew the pole on night two and led start to finish.
"It was 25 laps but it felt like the longest race ever," said Blixt, chased by Bert Beech and opening night winner Chaz Baca. "Last year I raced a lot of specials and ran almost 50 nights. The Wild West Tour win is pretty awesome. It means I'm doing something right."
The checkers came in just his career fourth tour start.
Defending Shaw Race Cars Western Region and track champion Baca's Friday win came from fourth starting. He passed Bill Miller on the second lap and set sail as the race ended with a long green flag run.
Now an All-Star ballot qualifier 10 times over, he won in front of Chase Hansen and Cory Sample.
2020 Stock Car tour champion Chase Berkeley's tow from Washington yielded a weekend sweep, as he took the win ahead of home state foe Zack Simpson and Ed Henderson both nights.
"It was an awesome weekend," said Berkeley, who led all 20 laps of Friday's caution-free contest after being challenged early by Simpson. 
He was in the right place at the right time on Saturday, leading the last five circuits after the top two runners got together and restarted at the back.
Troy Householder was promoted to the top spot in Friday's Karl Kustoms Northern SportMod finish when the apparent first place driver did not go to post-race tech.
And David Pitt won for the first time in 20 career tour starts on Saturday, leading the last 18 times around the track.
"I got by when the front two cars got together and I just kept going," he said. "We had a rough night Friday but the car was dialed in on Saturday."