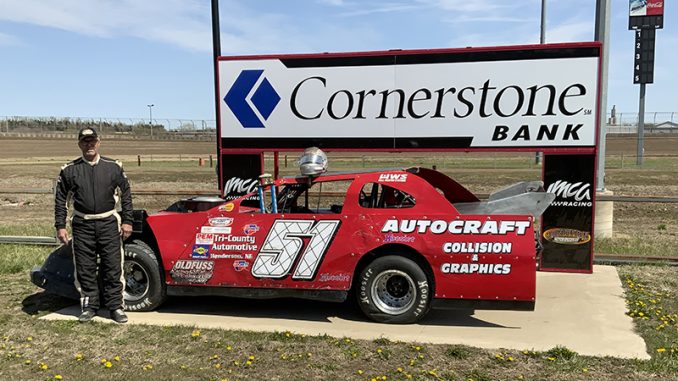 YORK, Neb. – Lester Siebert admits he was reluctant to go to the races because he knew he'd get hooked and want to race himself.
He did go and sure enough, he got hooked. And nearly four decades later, Siebert was the winner of his IMCA Sunoco Late Model career-first feature at Junction Motor Speedway's April 3 Mike Chapin Memorial Spring Thaw.
"I was glad to be able to win," said Siebert, from York and 70 years young. "I started racing an IMCA Late Model when they sanctioned them at Junction in 2019 and hadn't won a race the last two years. That Dumpert kid (two-time national champion Cory) is quick. I had a couple seconds last year, both times behind him."
Siebert totaled eight starts last year after finishing 19th in national standings his rookie season. His win at Junction came in the first Late Model event of the 2021 IMCA Speedway Motors Weekly Racing season.
"With all the good racers out there, we were pretty tickled to finish in the top 20 our first year," said Siebert, who will be a regular at McCool Junction with occasional visits to US 30 Speedway in Columbus and Boone County Raceway in Albion. "Winning the first race this year and being the national point leader was nice but I'd rather that was toward the end of the season."
He'd started racing a home-built stock car in 1972, stepping away from the sport in 1981 after winning the super late model track championship at the former Mid-Continent Speedway in Doniphan.
"I was the first in my family to race. I told my dad I was afraid to go watch the races because I knew I'd get hooked," Siebert said. "I finally went, and I did. I took the '55 Chevrolet I was driving on the street, knocked the windows out, put a roll cage in and next week was at the track, racing on street tires."
Fifteen or so years later, after time away to raise a family with wife Jean and farm, he got back on track part-time, including a stint in an IMCA Modified.
Siebert is a self-described Late Model guy, saying the division just looked like "too much fun" – especially when he was driving something else.
He's always raced the number 51 car with a red and white paint scheme that hasn't changed much over the years. Siebert been sponsored by Autocraft Collision and Graphics in York since he started racing in the full-bodied division in 2002.
"We shoot for our best night every night and whatever happens, happens. We race for fun and nothing gives me an adrenaline rush like getting in a race car does," he said. "I realized I was never going to make money or be big-time. Racing is my hobby and if you can't have fun with your hobby, you need a different hobby."