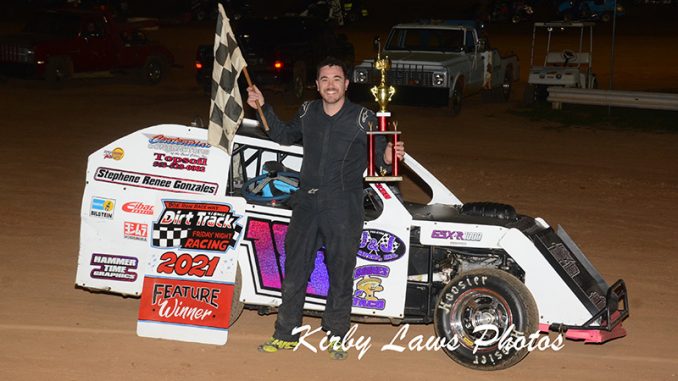 DOE RUN, Mo. (April 2-3) – Season openers at Doe Run Raceway have been very good to R.J. Gonzales.
The IMCA STARS Mod Lite driver from Colona, Ill., made another 5-1/2 hour tow to the Missouri track pay off, topping both the $750 to win feature on Friday and Saturday's big $1,500 to win Small Tire Shootout main event.
He started from the pole and led all 25 circuits on opening night, then won Saturday's 30-lapper from the seventh starting spot.
"I raced at Doe Run one time last year and won the opening night show," Gonzales said. "It's a tight track and you've got to be elbows up. I feel like I'm an elbows up driver so it really fits my driving style."
Multiple cautions kept the Friday field close. Jeff Asher and Logan Rittenberry finished second and third, respectively.
Gonzales took the lead just after midway on Saturday and was chased across the stripe by Matt Filkins. Ronnie Choate, Asher and David Lackey completed the top five.
"We found something at the end of last year and it's carrying over. I'm enjoying it while it's lasting," said Gonzales, also a double winner during Winter Nationals in February. "They're doing an awesome job at Doe Run and I'd encourage anyone to get down there if they haven't yet."