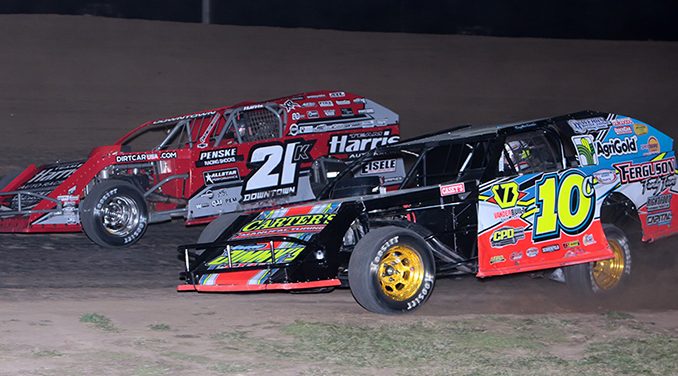 MARSHALLTOWN, Iowa (April 2) – Cayden Carter collected a second IMCA Modified win in as many Frostbuster starts on a brisk Friday evening at Marshalltown Speedway. 
One hundred and ninety-four cars, 53 Modifieds among them, saw action on the Highbanks. The 25-lap main event ran green after a caution on the initial start and Carter led all but the first circuits, leading Kyle Brown into and through lapped traffic before taking the $1,000 checkers.
"The draw helped a lot and we had a good, smooth track to run on," said Carter, also the Frostbuster winner at Stuart and already a Fast Shafts All-Star Invitational candidate. "We had a good car again tonight. It worked really good for us."
Rookie Cody Thompson, Troy Cordes and 2020 national champion Tom Berry completed the top five.
Defending track champion Dallon Murty dominated the IMCA Sunoco Stock Car feature, Kaden Reynolds led the distance in the IMCA Sunoco Hobby Stock main and Alec Fett found his way to the front on the last lap in winning the Karl Kustoms Northern SportMod headliner.
Murty caught pole starter Timothy Warner for the point on lap three, then started to check out on the rest of the field following a lap four restart. Murty was running in another time zone before a lap 16 yellow, then pulled away again and took the win ahead of 11th starting Kelly Shryock and his father Damon.
Warner and Steve Meyer were fourth and fifth, respectively.
Reynolds started fourth and was scored first each of the 20 Hobby Stock laps. Eric Stanton ended his drive toward the front in second and 16th starting Eric Knutson was third. Aaron Martin and Dylan Nelson were next across the stripe.
Fett started fourth, moved into the second spot with eight laps left and reeled in race-long leader Austin Schrage. He went under Schrage and completed his pass for the front less than half a lap before the checkers.
Josh Appel, Jenae Gustin and Dylan VanWyk ran 3-4-5.
Marshalltown next hosts the $5,000 to win King of the Highbanks special for IMCA Stock Cars Thursday and Friday, April 8 and 9.