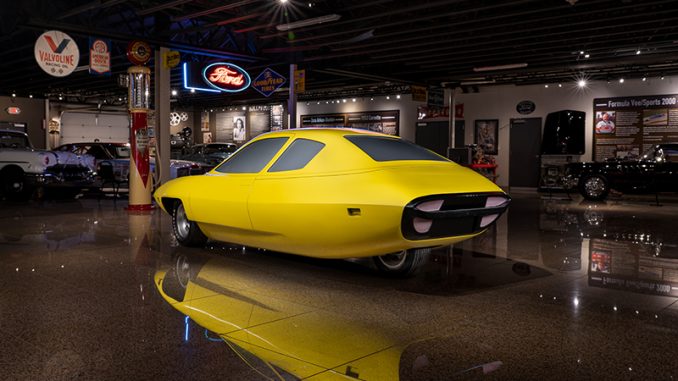 LINCOLN, Neb. – It's appropriate that when the Speedway Motors Museum of American Speed in Lincoln re-opens on April 1, one of the most unique cars in the collection started by Bill and Joyce Smith will be on prominent display.
After all, the Dale was an attempt to fool a lot of people out of a lot of money.
The three-wheeled, lightweight concept car designed by Dale Clift was to be powered by a motorcycle engine and engineered to get 70 miles to the gallon.
Not by coincidence, many Americans still had the Arab oil embargo and high fuel prices and shortages in the back of their mind when they got their first look at the Dale on the TV show The Price Is Right.
The new Twentieth Century Motor Car Corporation took hundreds of orders at around $2,000 a pop. Things were looking promising for Dale promoter Liz Carmichael before a prototype, one of only three built, tipped over during a test run for potential investors.
The Dale never made it to production. The transgender Carmichael, born Jerry Dean Michael and an accused counterfeiter, disappeared and didn't make her next TV appearance until being feature on a 1989 episode of Unsolved Mysteries.
Arrested shortly afterwards in Texas, Carmichael was returned to California, tried, convicted and sentenced to prison for 18 months. She died in 2004.
Carmichael's story became the subject of a The Lady and The Dale, a docuseries that aired recently on HBO. Museum curator Tim Matthews was among the viewers and decided it was prime time to get the Collection of American Speed's bright yellow Dale out of storage and on display.
"It's the timeless story of people trying to make a buck. I've always thought this was a peculiar car with a peculiar story. There's no engine or interior, really just an exterior," said Matthews, who has been in regular contact with Nick Cammilleri, writer and director of The Lady and the Dale. "Despite the Dale being the most peculiar we want to put it on display with other cars like the Delorean and Tucker, which are all kindred spirits as car companies which didn't make it."
There's a Dale in a museum in Los Angeles and another is believed to be owned by a private collector. The Dale prototype in Lincoln was the model photographed for brochures and seen on The Price Is Right.
"It's in pretty darn nice shape. The wheels and tires have really held up," notes Matthews. It's got a fiberglass shell and under the skin it's wood and plaster and all kinds of stuff."
Dean Moon, founder of Moon Speed Equipment, had seen the Dale on top of a muffler shop in Los Angeles and got the idea of making kit cars himself. He then talked to Bill Smith, who had the same idea, and had the car shipped to Lincoln in 1975.
"Bill collected a lot of the stuff at the museum before there was eBay or the internet. He would call his friends and ask about cars or parts," Matthews said. "He was equally intrigued but realized a kit car was not feasible and it ended up in off-site storage."
The two-seat sports car might not have been feasible but its story remains fascinating. From 15 feet away, you don't know it's not a functioning automobile.
"The Dale is so unique, with a crazy banana shape and painted bright yellow. As a car enthusiast, I can see where it fits in with the 1970s," explained Matthews. "It stands alone in concept and design. There have been other three-wheeled vehicles but everything else about the Dale is different."
(Editor's Note: For anyone planning a trip to Lincoln and the Speedway Motors Museum of American Speed, the link to the museum website is https://www.museumofamericanspeed.com/)