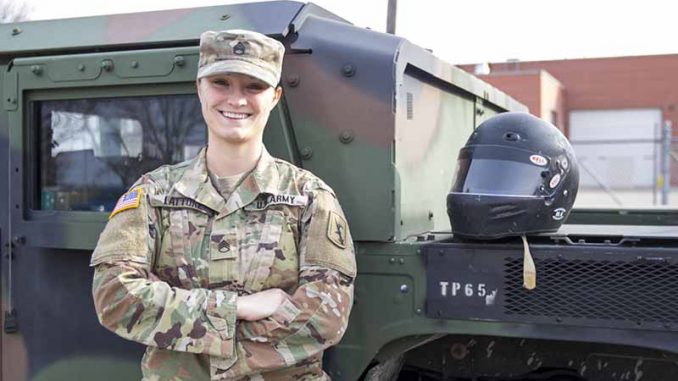 OMAHA, Neb. – While preparing for her third Karl Kustoms Northern SportMod season, Staff Sergeant Melissa Latture is preparing to do her job deploying with the Nebraska National Guard. 
Latture has served for eight years, five of them on active duty with the Guard. The human resources spe­cialist will go as fast as she can as many nights as she can before beginning her first overseas deployment.
"I am preparing to be prepared to do my job. I'm excited about it. I think it's going to be a cool opportunity," the Omaha driver said. "I joined the military knowing this was a possibility. I got married last April and found out about the deployment soon after. A lot of life-changing things happened all at once. It was a whirlwind."
The Wood River native grew up in a family that enjoyed building and restoring classic automobiles – one of her father's projects was featured on the cover of Ol' Skool Rodz magazine – and cheered on her favorite drivers as a fan at Doniphan's Mid-Nebraska Raceway.
Two of her favorites now include husband Dan and stepson Braydon, also Northern SportMod drivers.
"They put me in Braydon's car on a practice night, I got out and told them 'Put me in my own car,'" Latture said. "We bought one and have been pushing ever since. It's been great."
Latture pilots a Dirt Works Chassis purchased from a local driver. She made 10 IMCA starts during the shortened 2020 season, nine of them at Eagle Raceway along with a single outing at The New Raceway Park.
"Car counts at Eagle are always huge," said Latture, admitting to some butterflies. "I am getting better and learning more about the car, and the support I get from Dan and Braydon is tremendous. Regardless of how the heat or the feature turned out, the whole process has always been fun and something we get to do together as a family."
"I like being in the garage and working on the cars and I like being on the track," she continued. "It's fun being part of a family team. You want everyone to succeed."
Northern SportMod drivers at America's Home Track have become part of her extended family.
"The SportMod community at Eagle is great. They'll help get you on the track if you need it. They want to race with you," Latture said. "Racing SportMods at Eagle has been a really good experience, with really good people."
Sponsored by Pre Wel Manufacturing of Omaha and Joe's Karting in Council Bluffs, Iowa, Latture also gets help working on her ride from Mach-1 Sport Compact drivers Bryce Walker and Jim Cahill. She's already looking ahead to returning stateside and racing in 2022.
"I plan to pick up right where I leave off," promised Latture.