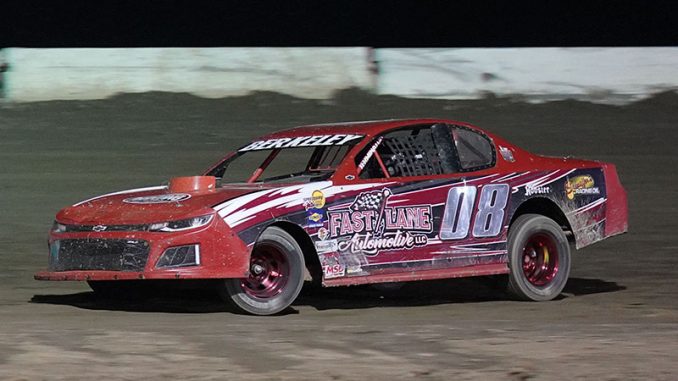 COLVILLE, Wash. – Chase Berkeley enjoyed the opening weekend at Sweetwater Speedway so much he figured he'd follow the rest of the eight-race 1st Class Chassis Wild West Tour.
He's got his career first IMCA Sunoco Stock Car feature win and a tour championship to show for that decision.
"We were only planning on running Sweetwater but we had such a good time that we decided to follow the tour," said Berkeley, from Colville, Wash. "It was a lot of time on the road for sure but it was pretty fun."
Berkeley posted top five finishes at each of the four tracks that hosted the tour … Sweetwater in Wyoming, Winnemucca Regional Raceway in Nevada and Diamond Mountain Speedway and Desert Thunder Raceway, both in Utah.
After a runner-up finish the night before, he was the Aug. 15 winner at Diamond Mountain, lead­ing from lap six to the checkers.
The victory meant a delay in starting the trip home but there were no complaints.
"We had the trailer loaded up and ready to go so we could get part of the way home that night after the races," Berkeley said. "It was exciting. I have never had a win at that level of competition be­fore. It was definitely my biggest win so far."
Berkeley has run in a local street stock class closer to home. His sister Tiana and brother-in-law B.J. Wild both race Harris-built IMCA Modifieds and that connection got him in Kyle Brown's for­mer Terminator ride.
"Harris has treated us pretty well and that's what got us into one of their cars," he said. "I had a good crew and winning the tour means a lot to all of us. We don't know about 2021 yet but we want to run Sweetwater for sure. That was our favorite track."
Starts-8 Wins-1 Additional Top Fives-4
His Crew: Parents Tony and Holly, fiancée Karsyn Pierce, sister Tiana and brother-in-law B.J. Wild.
His Sponsors: Fast Lane Automotive, Colville Printing and Coby Foust and Schaeffer's Racing Oil, all of Colville.