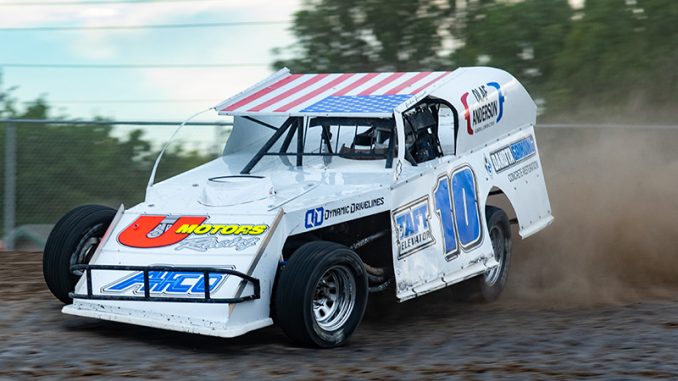 FARGO, N.D. – Austin Arneson capped a season of firsts with a second-time IMCA Modified accomplishment. 
The winner of the inaugural Don Gumke Racers Memorial earned both career-first Moritz Sport & Machine Dakota Classic IMCA Modified Tour powered by Bismarck Motor Company and Red River Valley Speedway track championships.
The Fargo, N.D., driver also added a second Stock Car Stampede trophy to his collection, finishing with a career-best 10 feature wins in just 24 starts.
"We're a small group. We build our own cars and work hard to get things done," said Arneson. "This was a really fun year. We couldn't have asked for much more."
While brother Casey won the first race held in honor of Gumke, a long-time family friend, in Arizona, Arneson took the checkers in an equally extraordinary event closer to home at Jamestown Speedway.
Consistency put him at the top of the standings for the 31st annual Dakota Classic Tour.
Arneson ran in the top five in four of six tour starts, starting at home track Red River. He was runner-up at Nodak Speedway and fifth at both Williston Basin Speedway and Southwest Speedway, impressing in first-ever starts at those three venues.
"I'm not a big tour guy. The only tour I'd run before was the Sanders Modified Tour and I don't do too many two-day shows," he said Arneson. "It would have been nice to get a (feature) win but winning the tour was exciting. It was something we set out to do at the start of the season and we achieved it."
His track championship chase brought the golden anniversary season at West Fargo to a close.
"That was pretty cool," said Arneson, also the winner of both Red River Tour starts. "To be able to make all the Friday night shows and win the track championship during the 50th anniversary season was pretty special."
Starts-6 Wins-0 Top Fives-4
His Crew: Father Dell, brother Casey and Riley Hatfield.
His Sponsors: U-Motors, Dakota Grinding, I29 Trailer Sales, JDP Electric, and Olaf Anderson, all of Fargo; Taft Elevator of Hillsboro; Tim Pittenger and Schaeffer Oil, Bismarck; Dynamic Drivelines of Des Moines, Iowa; Wehrs Machine and Racing Products of Bangor, Wis.; and AFCO of Boonville, Ind.