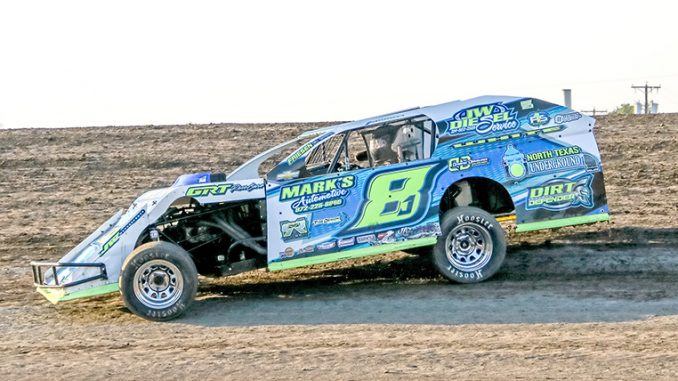 RED OAK, Texas – Jon White Jr. had regional and state awards to show for his first season running with IMCA Modified national championship caliber competition. 
The Razor Chassis South Central Region rookie of the year and KMJ Performance Texas State champion counted the likes of former national champs P.J. Egbert and William Gould among his regular weekly top-flight foes.
"I love the class," said White, runner-up in the national rookie points race to Dakota Sproul following a successful Smiley's Racing Products Southern SportMod career. "I had fun, I got to go fast and I got to race with a ton of guys who are stiff competition. I'm ready to start next season."
White's 42 starts took him to nine different tracks in Texas and Oklahoma. He was fourth in points at Heart O' Texas Speedway, where he won for the first time in a Modified during the Sniper Speed Lone Star Tour program in February, and runner-up at Kennedale Speedway Park, site of his second feature win, on the final weekend of the season.
In between those checkers came lessons in learning to adjust his driving style to rear brake and the learning curve of the 4-link suspension.
"I just thought it was time to move up. I like the cost and the new level of competition. Rookie of the year was our goal from the start of the year and while we'd like to have won the national award, we can't complain," he said. "It was cool that we got our first win as soon as we did and we needed some of those second place finishes to turn into firsts, but we had a great season."
White ran a 2017 GRT previously owned by Jordan Grabouski, another former national champion, and purchased from Brad Doherty.
"I watched Brad win in that car and walked up and told him I wanted to buy it," he said. "I pretty much took it home that night and then sold my two Southern SportMods."
Starts-42 Wins-2 Additional Top Fives-19
His Crew: Father Jon Sr., wife Christian, Jimmy McCommas and Robert McCommas.
His Sponsors: Jimmy McCommas and North Texas Underground of Mesquite; Dirt Defender of Waxahachie; MD Bowles Construction of Italy; Robert McCommas Racing of Forney; Mark's Automotive of Hutchins; 5H Contracting of Palmer; Mobags Suspension Technologies of Kilgore; C & P Pump Services of Grand Prairie; 517 Designs of Whitney; and MLH Racing Products of Venus.