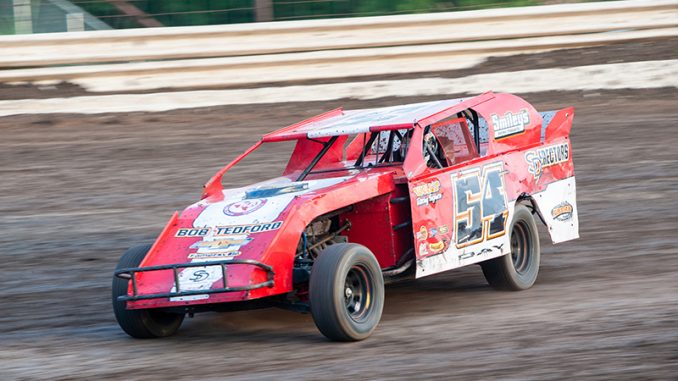 FARMERSVILLE, Texas – Running with the national champion helped Matthew Day earn na­tional IMCA honors of his own.
Day, 17 years old and a Farmersville High School junior, won five features while racing to the national Smiley's Racing Products Southern SportMod rookie of the year award. He ran with Dean Abbey, who won a career third national title this season, in 26 of his 38 starts.
"We knew we wanted to race for rookie of the year," said Day, who began racing Fridays at Boyd Raceway in addition to Saturdays at Southern Oklahoma Speedway in Ardmore and saw even more of Abbey. "We learned a lot from him. The more we raced Dean, the faster we got."
Day had started racing go-karts at the age of four and had success in the junior limited modifieds, a local class similar to Southern SportMods before joining his father Dan in the sanctioned divi­sion this year.
Third in national, Southern Oklahoma track and KMJ Performance Oklahoma State standings and fifth in points at Boyd, he was runner-up behind Abbey on four occasions.
Both his career-first win, on July 4, and his season highlight checkers, on Aug. 29 and also at Ardmore, came with Abbey in second.
"We had the car set up just right and walked away with my first win. We drove hard and won with a lot of cars behind us," Day said. "I won the other race with Dean right on my bumper. All I wanted to do this season was outrun Dean on his good night and my good night and I did that."
The Aug. 29 win was also the second in what became four consecutive wins.
"We got some things running right late in the season and just went with them," he said.
Starts-38 Wins-5 Additional Top Fives-14
His Crew: Parents Dan and Sandra, brother Mason, sister Morgan, Zac Sydney and the Godwin family.
His Sponsors: SD Erectors and Bob Tedford Chevrolet, both of Farmersville; Wells Racing En­gines and H and B Industries, both of Duncanville; Swenson Racing Shocks of Boerne; Clonch Racing Chassis of Cash; and Real Racing Wheels of Independence, Iowa.