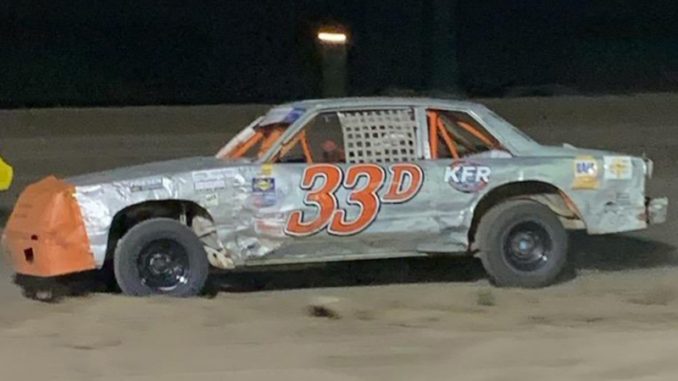 FARMINGTON, N.M. – Kyler Duggins had all of one night on the track under his belt at the start of the 2020 season.
Thirty-three races and four feature wins later, he was the IMCA Sunoco Hobby Stock national and Big Daddy Race Cars Southern Region rookie of the year.
"I tried it out for that one night at Aztec," said Duggins, son of two-time and repeat regional champion Jason Duggins. "The track looked a lot different that night than when I had been watching from the pits."
Duggins' first two wins came right ahead of his dad, on July 17 at Fairgrounds Speedway and the next weekend at Desert Thunder Raceway. August and September checkers figured in his run to the track title at Desert Thunder.
He drove a Grumpy Chassis three or four years older than his father's 2003 ride that had served as a loaner for four other drivers last season.
"My first win was a real confidence booster. We'd gotten in a wreck early in the race, restarted from the back and came back to win. I passed my dad on the last lap," said Duggins. "It really hadn't hit me that I'd won yet but dad couldn't get out of the car fast enough to come give me a hug. It was a really fun race."
A senior majoring in business at Eastern New Mexico University in Portales, Duggins hopes to pitch for the Greyhound baseball team before returning to the division next season.
"I like the feeling of community. I had so much fun this season and everyone helps everyone," he said. "Hobby Stocks are economical and I like being able to race with my dad. This class is where it is for us right now."
Duggins is the first New Mexico driver to earn the Hobby Stock regional rookie award and the first since Chris Meyers in 1993 to win national rookie honors in the division.
Starts-33 Wins-4 Additional Top Fives-14
HIS CREW: Paul Dorsett, brother Trevor, Jessica Walker, Allen Bradley, Bub Hughes and Larry Rust.
HIS SPONSORS: Dorsett Racing and Grumpy Chassis, both of La Plata; Power by Gosh, Farm­ers Insurance, San Juan Mobile Home Supply and Hardware, 2 Dukes MAC Tools an Reliable Escrow Services, all of Farmington; NAPA Auto Parts of Farmington and Bloomfield; and KFR Graphics and Wraps and Accurate Engine and Machine, both of Cortez, Colo.