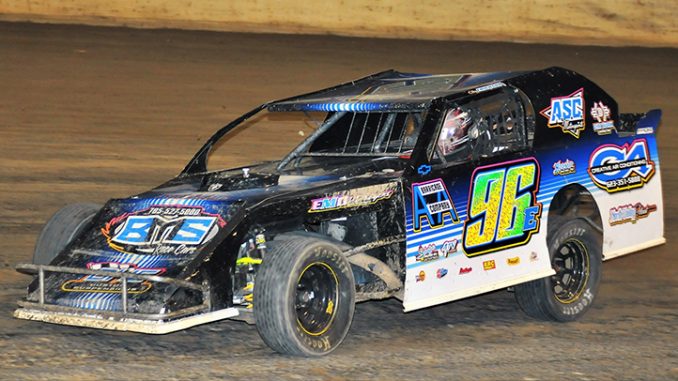 GLENDALE, Ariz. – A season of firsts saw Clay Erickson race to national Karl Kustoms Northern SportMod rookie of the year honors.
From Glendale, Erickson became the first IMCA driver from Arizona to earn the national rookie title in any division, edging younger brother Justin for the prize.
His first feature victory came March 7 at Canyon Speedway Park, the same venue where he'd ultimately win his first track championship.
"Our consistency really stood out in our first season. We went to a lot of different tracks and ran well," said Erickson, also the KMJ Performance State champion. "The top five's weren't as good as getting wins but it was good to know we could run up there."
Erickson complemented career win number one with 18 top five finishes. Twenty-six starts came at home state tracks, another 11 at Fairgrounds Speedway in Colorado.
Team Erickson made 800 mile round trips to Cortez when Arizona tracks were closed during the warm summer months for weekend double or tripleheaders on five occasions.
"We went there to run for points and the experience," Erickson said. "I didn't always have the best of luck there – we lost a shot at a win there when the gear broke while we were leading on the last lap and I had to borrow a car from my brother after tearing mine up another night – but the good finishes made up for the bad ones."
Erickson ran go-karts for a year before making his Northern SportMod debut on the final week­end of the 2019 season. Wheeling a BMS ride with an already distinguished pedigree pur­chased from Chase Alves, he more than exceeded early goals of winning rookie and state crowns.
"What was best about this year," he said, "was all the people we met, going to all the different tracks and trying to get more wins."
Both Clay and Justin will return to the division in 2021.
Starts-37 Wins-1 Additional Top Fives-18
His Crew: Parents Dave and Wendy and brother Justin.
His Sponsors: North Valley Fleet and A.S.C. Motorsports, both of Glendale; Creative Air Condition­ing and A Barricade Company, both of Phoenix; BMS Race Cars of Belleville, Kan.; and Bob Harris Enterprises of Ames, Iowa.