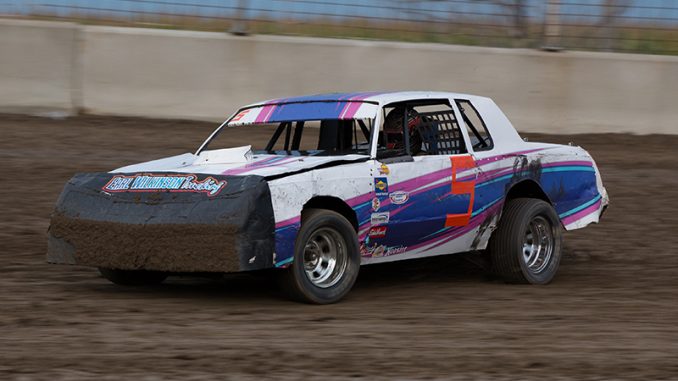 NELIGH, Neb. – Pressure? Bring it, says Cameron Wilkinson.
The third generation speedster from Neligh, Neb., clinched IMCA Sunoco Stock Car national and EQ Cylinder Heads Northern region rookie of the year awards on the final weekend of the season, with third- and first-place finishes at Junction Motor Speedway.
"A lot of people knew I had pressure on me. That's what I like," said Wilkinson, who welcomed the high stakes opportunity despite having to change engines and swap bodies after a tough outing the previous weekend. "We had a lot of confidence at the start of the season and winning rookie of the year is what I set out to do."
Wilkinson won the national rookie prize by a single point, over Texan Dustin Mooney. He was the track champion at Off Road Speedway, where he won for the first time on July 1, and runner-up at Boone County Raceway.
He'd finished second in four straight features leading up to career win number one.
"We'd had a lot of nights when we were real close and just needed a couple more laps to get the win," he said. "It was pretty cool when we did get that first win. We definitely had the car to run with guys like Mike Nichols and Dylan Smith."
Wilkinson had started in a junior hornet class before totaling 30 wins over four IMCA Sunoco Hobby Stock seasons. His grandfather Dean ran an IMCA Sunoco Late Model while his father Jason continued his own winning ways in the Hobby Stock division this year.
"From my grandpa and great uncles, racing has been in my family for 50 years. I kind of knew what I was going to do," he said. "My dad told me if I could master a Hobby Stock, getting into a Stock Car would be easy. I did that and did all right, I guess."
Starts-40 Wins-4 Additional Top Fives-19
His Crew: Father Jason, brother Kyle, grandfather Dean, Jayden Ehrhardt and Logan McConnell.
His Sponsors: Selting Farms, Diamond C Land and Cattle, Corner Service and Tire, Paul Pel­ster Trucking and Garrett Shindelar Custom Ag, all of Elgin; and Earl Wilkinson Trucking of Oakdale.