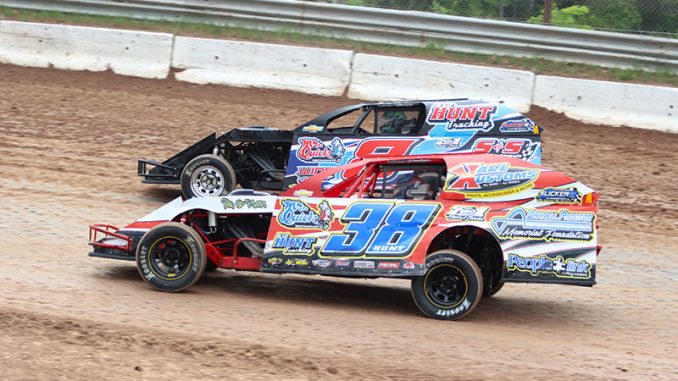 KENT CITY, Mich. – There was never any question that Mitchell Hunt was going to race an IMCA Mod­ified.
With the book closed on his sixth season in the division, the only question left is where to dis­play his Dirt Works Eastern Region championship trophy and Thunderbird Raceway and Winston Speedway track championship plaques.
Just 21, the Kent City, Mich., chauffeur had seven feature wins and another 11 top five finishes in his 28 regional starts. He was 14th in national point standings.
"The regional championship was a big surprise. After tracks in Michigan opened in June, we were pretty much racing for fun," he explained. "We got rolling with the July 11 win at Thunderbird and started chasing it from there. The wins and top five's started to roll off more."
"We looked at the points a couple weeks before we left for Super Nationals and realized we just had to win those two track championships and get the bonus points," he continued. "Everything just fell into place. I'm glad I was able to check that off my bucket list. It feels good to win the re­gional championship. I can't wait to see what next year brings."
The third generation driver followed grandfather Jerry Pace and father Jerry Hunt into the division.
"These are the cars I watched growing up. Racing a Modified is what my family has always done and what I have always wanted to do," he said. "This year we went to different tracks I'd never raced at. Winston opened this year for Modifieds and we went there to start the season and abso­lutely loved it. We had watched videos from Thunderbird before we went there and really liked the con­figuration and the people."
Hunt traveled even further from home to race for the first time at another track, finishing seventh in the opening night show at Benton County Speedway in Vinton, Iowa.
"Dad and I both had the weekend off so we came to Vinton," said Hunt, who quickly became a fan of The Bullring. "It's a cool little track and I knew it was going to be fun. I wish we lived closer."
Starts-29 Wins-7 Additional Top Fives-11
His Crew: Father Jerry, stepfather Matt Hunt, brother Brennen, grandfather Jerry Pace, cousin Calvin Brackett and Travis Fisher.
His Sponsors: Tom Benson of St. John's; grandparents Jerry and Linda Pace; Vicky Hinderline and Carl Jerome; Peoplelink Staffing Solutions of South Bend, Ind.; the Darrell Proctor Memorial Foundation and Larry's North Town Furniture, both of Greenville; Mr. Quick resturants of Muskegon; K&D Hunt Trucking of Six Lakes; Wildlife Gallery of Mt. Pleasant; Slicker Graphics of Cincinnati, Ohio; QuickCar Racing Products of Lebanon, Tenn.; Wehrs Machine and Racing Products of Bangor, Wis.; Karl Kustoms and Dynamic Drivelines, both of Des Moines, Iowa; Zero One Shocks and Suspension of Story City, Iowa; and S&S Motorsports of Hinton, Iowa.