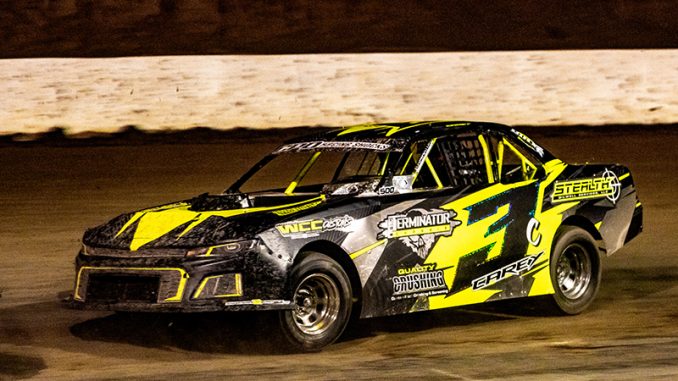 BLOOMFIELD, N.M. – Steffan Carey accomplished a lot in a season he described as "pretty uneventful." 
Carey won 11 IMCA Sunoco Stock Car features, earning his career first EQ Cylinder Heads Southern Region crown and runner-up honors in the division nationally.
"We didn't plan to race for points. By the end of the season, we weren't racing that much and had to watch everybody else catch up but the last six or seven races (all top four finishes) went really good," said Carey, also track champion at Desert Thunder Raceway and Fairgrounds Speedway. "Everything just aligned for us."
From Bloomfield, Carey became just the second New Mexico driver to win a regional Stock Car prize. The first was his father-in-law, Rex Higgins, in 2009, the same season Carey scored regional rookie of the year honors in the class.
He finished second or third in all but one on nine early-season starts in Arizona this year, topping Winter Series point standings at Cocopah in a brand new Terminator.
"The car was good right out of the box. I've dealt with Mark Elliott for years and have always been able to bounce ideas off him. He's forgotten more than I'll ever know," said Carey, in his second year as a dealer for Harris Auto Racing. "We stayed with our base setup until we sold the car to a customer in Texas, then finished the season in Gene Henrie's backup car."
Carey's father Brian and Higgins both race Karl Kustoms Northern SportMods now. Carey says his full-bodied driving style is similar to Higgins,' who has more than 100 career wins in the class.
"This was kind of an uneventful year for us. We didn't hurt the motor, we only got tore up once in a heat race and we don't have any crazy stories. We were just super consistent from start to finish," Carey summarized. "We only had one DNF, at Cardinal Speedway's Sheen Memorial, and getting our (career) 50th win was fun. This was definitely the best overall year I've had. There were too many second-place finishes (15 of them) but a lot of people would like to be in that situation."
Starts-36 Wins-11 Additional Top Fives-20
His Crew: Wife Maygen, Monty Saiz, Ramon Saiz and Bub Hughes.
His Sponsors: WCC Customs of Bloomfield; Terminator Chassis by Harris Auto Racing of Boone, Iowa; Fisher Race Engines of Oshkosh, Wis.; Gene Henrie with Quality Crushing of Cedar City, Utah; Stealth Oil Well Services of Odessa, Texas; Dirt Defender of Waxahachie, Texas; CPD Racing Shocks of Fort Dodge, Iowa; Mitchell Machine of Webster City, Iowa; Performance Bodies of Cedar Falls, Iowa; Sybesma Graphics of Sanborn, Iowa; and JDR Performance Carburetors of Marshfield, Mo.