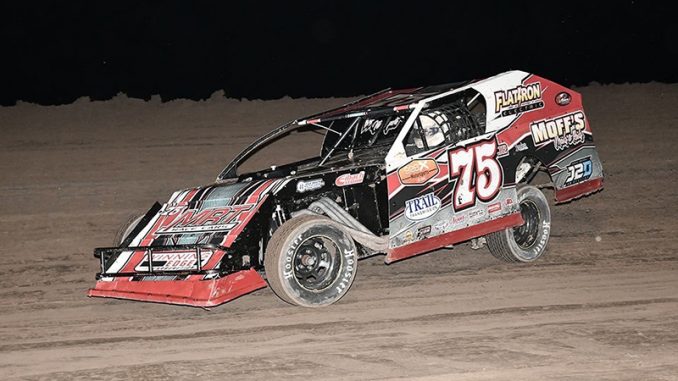 MESA, Ariz. – Chaz Baca started 2020 racing with the big boys.  
He ended it hoisting the big trophy.
The IMCA Modified driver from Mesa, Ariz., recorded a single-season career-best 16 feature wins to earn the first Shaw Race Cars Western Region championship of his career. Sixth nationally, his awards haul also included Battle Mountain Raceway and Cocopah Speedway track and KMJ Performance Arizona State crowns.
"Winning the region is really a big thing for us. We've been trying to do it for years," he said. "When you look at how many states are in this region, it's definitely exciting to have accomplished this."
Baca got off to a fast pre-pandemic start, winning seven of his first 22 starts. Two of those checkers came in Arizona Dirt Track Tour battles with home state hero Ricky Thornton Jr.
"I got to race with the big boys in the tour and beat Ricky twice. He's fast everywhere but he grew up here and he knows these tracks," Baca said. "Being able to race with, and beat such a good driver is big, especially in our home state."
A five-time winner at Cocopah, where his success continued in post-season special events, Baca collected another four checkers at Battle Mountain. In his second season behind the wheel of an MRT Chassis, he went on the road to make up for regional starts lost to Covid-19, traveling to Colorado and New Mexico as well as Nevada.
Last-minute help from a sponsor helped fund an Independence Weekend trip to Texas and nudge Baca's tracks visited total to 13.
"We learned a lot that weekend about racing on smaller tracks," he said after outings at Grayson County Speedway, Heart O' Texas Speedway and Kennedale Speedway Park. "It was definitely interesting and a lot of fun."
The fourth different driver from as many different states to win the West in as many years, Baca followed his father Chaz Sr. into the Modified division after stints in dirt and asphalt go karts, a local stock class and modlites.
"I thought Modifieds were the next step up from the modlites," he says. "Plus, they look cool."
Starts-51 Wins-16 Additional Top Fives-20
His Crew: Father Chaz Sr., cousin Anthony Greiner and Spencer Chilton.
His Sponsors: Flat Iron Electric and Trail Transmission, both of Apache Junction; Kyler Repella Motorsports and J2 Performance, both of Phoenix; Moff's Mods and Rods and Prattster Graphics, both of Mesa; 928X Motorsports and Yuma Insurance, both of Yuma; Schaeffer's Lubricants of Chandler; Cowtown Tavern of Stanfield; Swift Springs of Chino Hills, Calif.; and MRT Race Cars by Lance Mari of Imperial, Calif.