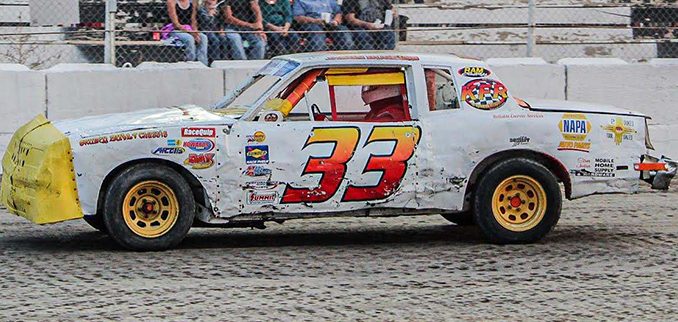 FARMINGTON, N.M. – The highlight of Jason Duggins' season wasn't either of his champion­ships or even a race he won. 
Duggins, repeat champion in the Big Daddy Race Cars Southern Region for IMCA Sunoco Hobby Stocks and at Fairgrounds Speedway, had the best view in the house when son Kyler won his career-first feature on July 17 at Fairgrounds Speedway in Cortez, Colo.
He was right behind him in second.
"Kyler's accomplishments mean more to me than mine do for sure. His first win came at my ex­pense," said Duggins, who saw his son, the eventual national and regional rookie of the year, drive by on the last lap. "I was probably more happy about that win than I was for any of my own."
From Farmington, N.M., Duggins had 11 feature wins this season and a 10th place finish in na­tional point standings to be happy about.
He towed more than 19,000 miles, winning at four of the six tracks he raced at in four states. An­other highlight came when Jason and Kyler ran 1-2 in their first visit to Wild Bill's Raceway in Utah.
"We made the most of the schedule after Aztec Speedway, our home track, didn't open (because of the pandemic) and Cortez picked up dates," noted Duggins. "We were able to click off some wins and I think we ran with every other driver in the region."
He followed a mid-season "rough patch" with five feature wins amidst a glut of top five's.
"We wanted to see how the season started, get in as many races as we could and have fun this year," Duggins said. "We got on a decent roll and stayed that way almost all season."
Team Duggins is already hard at work updating both Grumpy Chassis rides for 2021, starting the season at Cocopah Speedway's Winter Nationals.
"We've talked it up and are bringing two or three other guys along," said Duggins. "It's going to be a blast."
Starts-43 Wins-11 Additional Top Fives-21
HIS CREW: Paul Dorsett, son Trevor, girlfriend Jessica Walker, Allen Bradley, Bub Hughes and Larry Rust.
HIS SPONSORS: Dorsett Racing and Grumpy Chassis, both of La Plata; Power by Gosh, Farm­ers Insurance, San Juan Mobile Home Supply and Hardware, 2 Dukes MAC Tools an Reliable Escrow Services, all of Farmington; NAPA Auto Parts of Farmington and Bloomfield; and KFR Graphics and Wraps and Accurate Engine and Machine, both of Cortez, Colo.