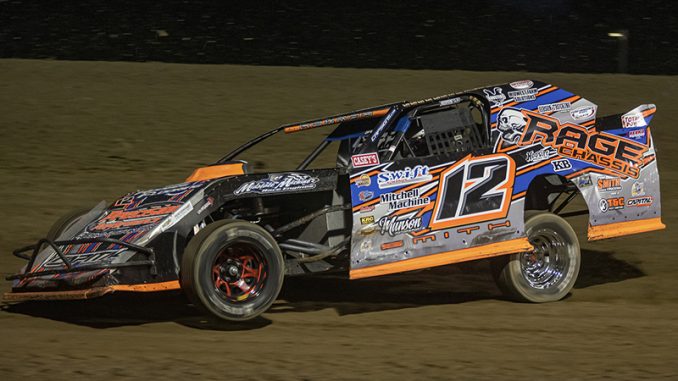 LAKE CITY, Iowa – Ten early season wins convinced Doug Smith this was the year to run for the IMCA national championship.
Wins in his final two starts of the season wrapped up his first Karl Kustoms Northern SportMod crown.
"I have never chased one (a national championship). I've always gone out and tried to win every race," said the Lake City, Iowa, veteran, whose brothers David, Devin, Donavon and Dustin own IMCA national championships of their own. "There have been other years when I've had a lot of wins but not a lot of starts. This was just a good year."
The Buena Vista Raceway and Crawford County Speedway track and KMJ Performance State champion, Smith won 10 of his first 13 starts, collecting seven straight checkers from June 3-17.
"That was definitely the best start to the season I've had and it came in a new Rage car. I think the start of the season was a combination of it being my third year in a Rage and we changed some mounts to free the car up and give me more speed," he said. "Hats off to Justin O'Brien and everyone at Rage for building me a safe and an awesome car. Their loyalty to me has been second to none."
"My boss, Keaton Martin, gives me a Hoosier for every win," Smith continued. "That helped a bunch this year because I could spend money elsewhere making the car go faster."
He made a long-awaited visit to 141 Speedway in Wisconsin and was runner-up in the big $5,000 to win Captain of the Creek show.
Smith returned closer to home to sweep Battle at the Beaver features in his 39th and 40th starts of 2020.
"I didn't have a clue where everyone was in national points. I thought I needed two wins to secure it and I didn't sleep for a week," he said, "then I went out and finished with two wins at the Battle at the Beaver."
The weekend sweep ultimately gave the Smith family its eighth national crown and first in an open wheeled division.
"I wanted to be in that group with them as national champions and in a class that none of them have run," said Smith, third on the all-time wins list for the Northern SportMods with 157. "You've got to put everything together to be a national champion. You've got to be consistent, you've got to finish races and you've got to win them."
Still in the process of unpacking after moving to a new home across town, Smith hasn't decided where to show off the national championship hardware. He's already got trophies from winning the IMCA Speedway Motors Super Nationals fueled by Casey's in 2016, the BSB Manufacturing Race of Champions in 2016 and 2019, two Harris Clash triumphs plus SportMod Nationals.
"My wife thinks we should put it in a glass case or in the shop. I haven't even been to the shop since the last weekend at Alta," Smith said. "The car has been on the trailer and I've been in the field since we got done racing."
Starts-40 Wins-19 Additional Top Fives-12
His Crew: Matt Bock, father-in-law Lonnie Hodges, Mike Munson and Toby Smith.
His Sponsors: Smith Farms of Lake City; Midwest Farm Solutions of Somers; Toby Smith and T and C Pest Control, Lonnie Hodges Flooring and Roosters Bar and Grill, all of Boone; Matt Bock and Bock Flooring, Carroll; Mike Munson and Munson Motorsports, Boxholm; Fast Shafts and Midstate Machine, both of Des Moines; Mitchell Machine of Webster City; Gibson Trucking of Jefferson; Precision Performance of Oxford; Roder Trucking of Laurens; Capital Design of Ankeny; Rage Chassis of West Union; Wehrs Machine and Racing Products of Bangor, Wis.; and Frank Simonetti and Swift Springs of Chino Hills, Calif.