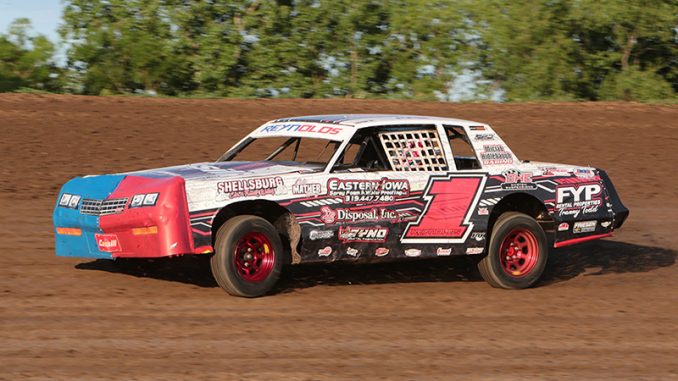 CEDAR RAPIDS, Iowa – After racing to national and regional rookie of the year honors in 2019, Kaden Reynolds set a goal of winning IMCA's inaugural Junior National Championship in 2020.
And after a month and a half delay to his season and 19 IMCA Sunoco Hobby Stock feature victories, he had done just that.
"We had ended our rookie season really strong and wanted to start 2020 strong and chase the Junior National Championship because this is the only year I'll be eligible," said Reynolds, a virtual spring graduate from Kennedy High School in Cedar Rapids. "It was our goal all year. We knew Dallon (Murty) was running for it, too. Being able to win it was pretty cool."
Nearly 400 drivers between the ages of 13 and 18 vied for the Junior National Champion's crown, with standings based on their best 20 finishes in their first 40 starts.
Like the eight IMCA divisional national champions, Reynolds receives a trophy, ring and jacket. All top 10 drivers in the Junior National Champion standings receive $500 scholarships to be applied toward their post-high school education.
"We had the car ready super early and planned to race Spring Nationals in Nebraska. Then we kept getting told to wait before we could start racing," said Reynolds, now working as a machine operator at grandfather Randy Olson's Prestige Masonry and still considering career and school options. "When we did get started, we pretty much took the same approach as we did last year. Running for points can be super stressful. If you don't worry about points 'til the end of the year, you'll have better performances during the season."
Seventh in both national and Big Daddy Race Cars Northern Region points, Reynolds said he watched replays of his races to hone his on-track skills, particularly to learn how to better change lanes.
Those pay-per-view reviews helped as he won the track championship at Independence Motor Speedway, finished second at Marshalltown Speedway and was fourth at Benton County Speedway.
A seven-time winner at Vinton, Reynolds collected five wins during the point season at both Indee and Marshalltown. He took the checkers in his only visit to Davenport Speedway and got his final win on night two of Marshalltown's World Nationals.
Reynolds raced from last to first to win features at both Benton County and Marshalltown and counted the $1,000 Iowa Donor Network Night victory at Indee among his season highlights as well.
"We won our first five starts at Marshalltown, four of our first five at Indee and our last five at Benton County, so we were pretty consistent once we got rolling," he said. "We just kept picking the wins off."
Reynolds will return to the division next season, with the same car and new goals.
"It means a lot to me to be able to win the Junior National Championship this year," he said. "My grandpa was the first person I told after I found out I won and it was a surprise, for sure. I've been putting my trophies in his shop and now we'll have to make room for more.
Starts-37 Wins-19 Additional Top Fives-9
HIS CREW: Grandfather Randy Olson and Austin Rayner
HIS SPONSORS: Eastern Iowa Spray Foam, D & S Disposal, Cassill Motors, FYP Rental Properties and Climate Engineers, all of Cedar Rapids; Albert Auto 380 of Center Point; Shellsburg Car and Truck Wash of Shellsburg; Prestige Masonry of Anamosa; Dynamic Drivelines of Des Moines; Finishline Body and Paint of Grimes; BHE Custom Suspension of Ames; and Motorsports Warehouse of Boone.