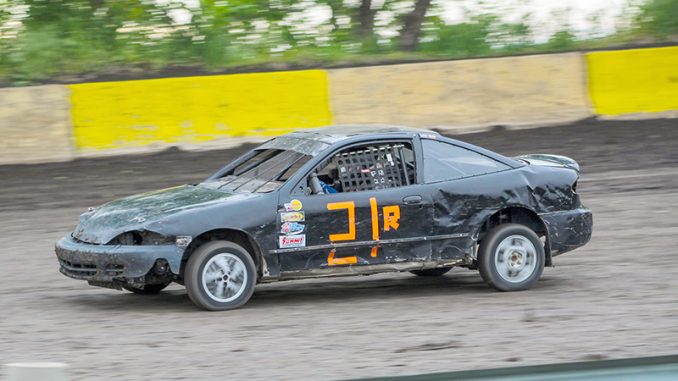 PIERCE, Neb. – The car Ramsey Meyer couldn't sell carried him to another IMCA national championship.
Meyer raced to a career third Mach-1 Sport Compact national crown this season, winning 16 features and The New Raceway Park track title.
Pretty good, considering he'd initially planned to spend the summer enjoying the new deck and patio he'd built at home.
"At first I didn't plan to race at all. I was still doing landscaping around my house," said Meyer, from Pierce, Neb. "Then I thought I'd race a couple times, and then New Raceway Park opened. We put new tires on the car and washed it about a week before our first race."
The opening night checkers were the first of his nine wins in all at NRP. Meyer was also a three-time winner at Junction Motor Speedway while picking up single victories at Salina Speedway, Eagle Raceway, Park Jefferson Speedway and North Central Speedway.
He's been in double figures wins-wise each of his eight full seasons in the class and owns 229 career checkers.
"We didn't race as many times as usual but we raced in five different states this season," he noted. "My brother Cameron told me I should go to Salina. It was a track that was on our bucket list to go to and we had a lot of fun racing there."
Meyer had half a dozen wins at mid-season when an encounter with the front stretch wall at New Raceway Park KO'd his car and forced him into a backup ride.
"It was just sitting in the garage. We had tried selling it and a couple people looked but we got no bites. Having that car kind of saved the season there," he said. "We were still racing pretty much once a week after we wrecked. We started picking up some more wins and started looking at the points a little closer. That's when we realized the national championship was doable and we went from there."
Meyer won 10 of his last 13 starts, with a string of seven straight W's in that car that didn't sell.
"As always, we did our best to be prepared and things started working our way a bit," he said. "We kind of got some things figured out."
While time spent in the shop had also produced national championships in 2013 and 2018, Meyer's trek to the 2020 crown followed a unique path.
"Every championship is special and each year I had to do something different to win it," he said. "We got started later than usual and only ran half as many races as we usually do this year, so we had to make them count."
Starts-26 Wins-16 Additional Top Fives-7
His Crew: Parents Tom and Karen, brother Cameron and grandparents Dale and Gail Clipston.
His Sponsors: Tom's Service and MAC Tools, both of Pierce; the Clipstons of Hadar; Renner Auto Body and Norfolk Auto Supply, both of Norfolk; and the Vollbrechts of Stanton.