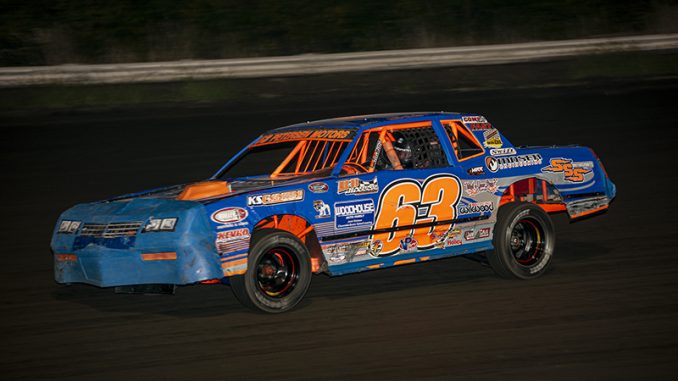 HARLAN, Iowa – Mike Nichols began 2020 with high hopes for the year on and off the track.
He achieved that broad goal in what proved to be the most unique of his IMCA career.
Nichols became IMCA's winningest driver, ending the season with 561 career checkers while racing to a record ninth IMCA Sunoco Stock Car national championship as well as a ninth EQ Cylinder Heads Northern Region crown. He also won four track titles, upping his already-best IMCA career total to 42.
On top of all that, Nichols completed four years of online studies for his master's degree in organizational leadership from Buena Vista University. When social distancing guidelines allow, he'll walk across the stage during ceremonies in Storm Lake to accept his diploma.
"I had hoped 2020 would be one of life accomplishments. The way the year started, it didn't seem like it would go that way," said Nichols, who would be as pleased with his academic achievements as his on-track ones. "So many things were unique about this year. I couldn't go to any of the pre-season practices and it took us a little bit to get going but everything worked out for us and we're proud of what we accomplished."
The national and regional champion in 2002, 2004, 2007, 2010, 2014 and 2016-2018, Nichols also raced to track championships at Crawford County Speedway, Dawson County Raceway, Shelby County Speedway and U.S. 30 Speedway.
After the start of his season was delayed to May by the pandemic, a June 11 sweep of make-up and scheduled features at U.S. 30 Speedway gave the Harlan, Iowa, Hustler his first hint that the year could still be a special one.
He was already leading national point standings when he launched a streak of 10 straight feature wins in early July.
"In order to be there at the end, you need to be at 50 percent (wins) or better. We started off less that that but clicked them off at the end and it was 63 percent," he noted. "I'm equally proud of the track championships. It seems like few drivers race for track championships but that's part of who I've always been and I shot my age, briefly, with my 42nd track championship before I turned 43 a few days later."
Career win number 557 came Aug. 30 at Dawson County Raceway and equaled David Murray Jr.'s all-time IMCA mark. Nichols returned to Columbus to set the new wins record on Sept. 3.
The familiar face missing from those post-accomplishment celebrations was has father, friend and crewman Stan, who died last November.
"I shed some tears because my dad wasn't there," Nichols said, "but I know he was somewhere smiling and telling everybody about it and how he taught me everything I know."
Nichols had shared IMCA modern era record of eight national championships with Shannon Anderson. He'll be a contender in both the Stock Car and Karl Kustoms Northern SportMod ranks in 2021.
"We've been at the shop every night, getting ready for next year," Nichols said. "None of what you've already done is ever enough. It's like the last call at the bar. You have to have one more."
Starts-52 Wins-32 Additional Top Fives-12
His Crew: Wife Anita, crew chiefs Justin Gessert and Paul Zimmerman, Mike Diercks, Wendall Cross, Casey Farrens, Phil Moyer, Josh Nielsen, Brian Dotzler and Sterling Sorensen. Honorary Pit Crew are Stan Nichols, Steve Nichols, Mark Dolan, James Buwalda, Jason Nielsen and Charlie Summers.
His Sponsors: The Lounge, Petersen Motors, Rusty Iron/The Rust Family; Mi Casa Family Mexican Restaurant and Woodhouse Auto Family/Josh Nielsen, all of Harlan; What's Your Sign? Graphics of Avoca; Gaul Farms of Earling; Mitchell Machine of Webster City; Performance Bodies of Cedar Falls; Advanced Communication Services of Manilla; Dynamic Drivelines of Des Moines; Motorsports Warehouse of Boone; Kevko of Fairmont, Minn.; B&B Racing Chassis of Belle Plaine, Minn.; KS Engineering of Albert Lea, Minn.; Bassett Wheel of Burlington, Wis.; FX Suspension of Phillips, Neb.; Multifire Spark Plug Wires by Money; SSS Motorsports of Springfield, Neb.; Western Carriers of WaKeeney, Kan.; VP Heartland Fuels of Manhattan, Kan.; JJ and Jena Baumli of Lathrop, Mo.; Champion Oil of Clinton, Mo.; Quick Car of Lebanon, Tenn.; FAST Fuel, Air, Spark Technology and Comp Cams, both of Memphis, Tenn.; EQ Cylinder Heads; North Las Vegas, Nev.; Swift Springs of Chino Hills, Calif.; CP Carrillo of Irvine, Calif.; Schoenfeld Headers of Van Buren, Ark.; Tilton Engineering of Buellton, Calif.; Moser Engineering of Portland, Ind.; Dirt Defender of Waxahachie, Texas; and Wilwood Engineering of Camarillo, Calif.