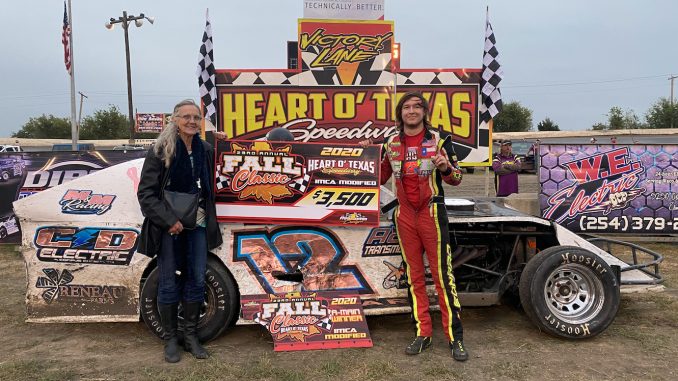 WACO, Texas (Oct. 25) – The higher line took Cody Leonard to the IMCA Modified checkers and a career-best payday Sunday at Heart O' Texas Speedway.
Leonard raced from seventh in topping the Fall Classic field, earning $3,500 and a spot on the Fast Shafts All-Star Invitational ballot.
"It feels great. I kind of grew up watching the guys I'm racing with," he said. "Racing with them is pretty cool. I was that little kid hoping to get to their level one day and here I am."
Josh McGaha, Craig Oakes, defending race winner P.J. Egbert and Caleb Stone completed the top five.
Leonard had battled Jeff Emerson for the fifth spot before a late caution. He restarted on the outside, quickly found a faster line and drove to the front.
"We came here as often as we could toward the end of the season and didn't make a lot of changes," Leonard said. "We knew we had a pretty good car coming into the weekend."
Oakes had started 12th, Egbert 15th and Stone 10th. John Gober motored from 18th on the original grid to sixth.
Friday qualifying was postponed to Saturday due to inclement weather, with last-chance races and main events moved to Sunday.
Fifteen hundred dollar feature winners were Casey Brunson in the Smiley's Racing Products Southern SportMods and Benji Kirkpatrick in the IMCA Sunoco Stock Cars.
Brunson caught Brandon Geurin on the final turn to pocket the down payment on a new car; his previous best finish in a dozen HO'T starts this season was second.
Garrett Gregory, David Montgomery and Devin Burgess were next across the stripe.
Kirkpatrick, no stranger to victory lane at Waco, took the initial green flag from the pole, then watched Jeffrey Abbey and Michael Riskey drive by.
Kirpatrick returned the favor following a lap 10 restart, passing both on the top side and leading to the finish.
Abbey, Riskey and 12th starting Ryan Powers ran 2-3-4 while Westin Abbey started last in the field of 26 and ended in fifth.