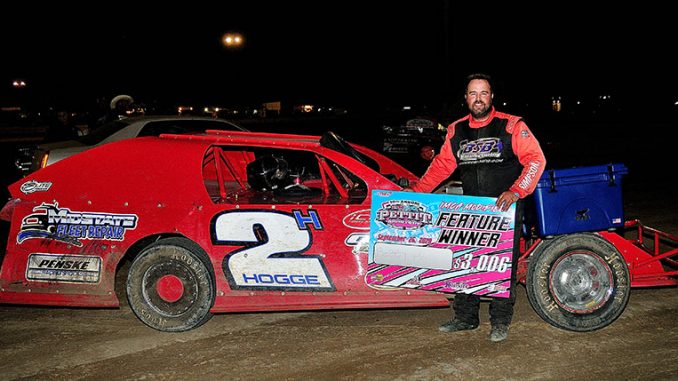 WATSONVILLE, Iowa (Sept. 25-26) – Bobby Hogge IV stood in victory lane at Ocean Speedway after the IMCA Modified finish that had everybody talking.
Hogge chased race-long leader Troy Foulger, then made his last-lap move to the front on the higher line for the $3,006 checkers on night two of the Pettit Shootout at Watsonville.
The Pettit win was Hogge's fifth in the 10 years the special, one of the premier events in IMCA's Shaw Race Cars Western Region, has been held.
"Any time you get a win it's special and we had almost the whole who's who in California racing was here this weekend," the Salinas veteran said, noting the 60-plus IMCA Modifieds and 50-plus Karl Kustoms Northern SportMods entered in the season-ending special. "Ocean is my home track. It's 25 miles from my doorstep and I've raced with the Pettit family for a long time."
Foulger had led the first 32 laps after starting outside pole. Robby Sawyer raced his way from 10th starting to second while Hogge made his way ahead from seventh.
Two cautions interrupted the finale, on laps 10 and 21. Hogge ran "two flawless laps" before pass­ing Foulger the last time around. Sawyer saw his late efforts rewarded as well, catching Foulger for the runner-up spot.
"It was exciting. Everyone I talked to said the people in the pit grandstands went nuts," said Hogge, who took the checkers in front of a spectator grandstand that remained empty because of Covid-19 guidelines. "It was a race that had everybody talking."
Nick DeCarlo and Kyle Heckman rounded out the top five.
Hogge was already on the Fast Shafts All-Star Invitational ballot.
Dylan Thornton put his own name on that ballot by winning the Friday night feature and $1,003.
Danny Lauer led the first lap, Tim Balding the next 14 circuits before Thornton took charge. Jerry Flippo started 17th and was promoted to second after Hogge was disqualified in post-race tech for shock compression.
"The rules are the rules," Hogge said. "We had to persevere the second night and that's what we did."
Foulger, Balding and Sawyer were scored next.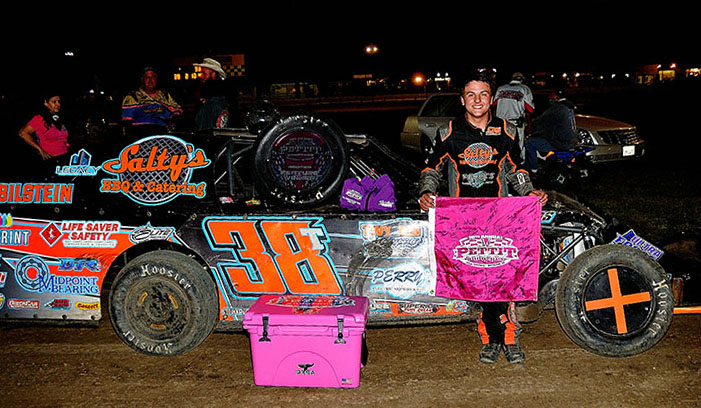 Dylan Thornton put his name on the Fast Shafts All-Star Invitational ballot with his $1,003 opening night Pettit Shootout win at Watsonville. (Photo by Top Dawg Racing Photos, by Jenna Meyer)
Andrew Peckham swept the Northern SportMod features, scoring the $503 win on Friday and a $1,006 Saturday payday.
Phillip Shelby had the fastest car for the first nine laps before giving way to Peckham on Friday. Thirteenth starting Fred Ryland took over second with three laps to go and Guy Ahlwardt finished third.
Peckham wired the field on Saturday. Ryland repeated in second, closing on the leader before a late caution cleared lapped traffic, and Todd Gomez was third.
Sept. 25 Feature Results
Modifieds – 1. Dylan Thornton; 2. Jerry Flippo; 3. Troy Foulger; 4. Tim Balding; 5. Robby Sawyer; 6. Brad Pounds; 7. Trevor Fitz-Gibbon; 8. Cody Burke; 9. Ryan Daves; 10. Jim Pettit II; 11. Brian Cass; 12. Derek Nance; 13. J.C. Elrod; 14. Aaron Crowell; 15. Buddy Kniss; 16. William Gould; 17. Danny Lauer; 18. Kellen Chadwick; 19. Andy Obertello; 20. Robert Marsh; 21. Austin Burke; 22. Shane DeVolder; 23. Michael Scruggs.
Northern SportMods – 1. Andrew Peckham; 2. Fred Ryland; 3. Guy Ahlwardt; 4. Todd Gomez; 5. Kc Keller; 6. Phillip Shelby; 7. Brent Curran; 8. Cale Kanke; 9. Kenny Shrader; 10. Randy Miller; 11. Chris Falkenberg; 12. Trevor Clymens; 13. Aaron Farrell; 14. Dylan Potter; 15. Andrew Pearce; 16. Adriane Frost; 17. Jim DiGiovanni; 18. Mike Kofnovec Jr.; 19. Nick Spainhoward; 20. Steven Allee; 21. Austin Manzella; 22. Darren Thomas; 23. Chuck Weir; 24. Justin McPherson.
Sept. 26 Feature Results
Modifieds – 1. Bobby Hogge IV; 2. Sawyer; 3. Foulger; 4. Nick DeCarlo; 5. Kyle Heckman; 6. Daves; 7. Thornton; 8. Shawn Natenstedt; 9. Nick Trenchard; 10. Scruggs; 11. Carl Berendsen; 12. Cody Burke; 13. Pettit; 14. Cass; 15. Randy Thornell; 16. Josh Combs; 17. Chadwick; 18. Balding; 19. Pounds; 20. Anthony Giuliani; 21. Crowell; 22. Kniss; 23. Gould; 24. DeVolder; 25. Lauer.
Northern SportMods – 1. Peckham; 2. Ryland; 3. Gomez; 4. Kanke; 5. Spainhoward; 6. Shelby; 7. Ahlwardt; 8. Shrader; 9. Gavin Espino; 10. John Piker; 11. Pearce; 12. DiGiovanni; 13. Manzella; 14. Keller; 15. Clymens; 16. Mark Garner; 17. Kodie Dean; 18. Allee; 19. Frost; 20. Vaughn Vondera; 21. Justin Gonzales; 22. Tanner Thomas; 23. Potter; 24. Farrell.