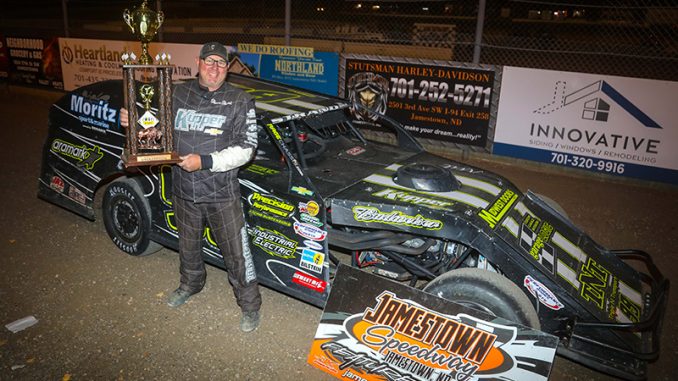 JAMESTOWN, N.D. (Sept. 25-26) – Winning the most prestigious race in North Dakota?
Awesome.
Getting to see your name on the T-shirt they'll sell next September at the big Jamestown Speedway special?
Almost as good.
Austin Arneson added to his Stock Car Stampede trophy collection while Shawn Strand, Rich Pavlicek and Darren Medler all started theirs with feature wins at the 49th annual event.
Arneson topped Friday's $1,500 to win IMCA Modified feature and Strand joined him on the Fast Shafts All-Star Invitational ballot with Saturday's $2,000 checkers. Pavlicek and Medler both earned $1,000 for Karl Kustoms Northern SportMod victories.
Fifty-five Modifieds vied both nights. Arneson won the opener ahead of Strand, Jason Wolla, Brandon Beckendorf and Travis Olheiser.
"We were really good. We rolled right to the middle of the track and were passing cars the last five laps. It was kind of smooth sailing," said Arneson, the Stampede winner in 2013. "It's always exciting to win. We've got a good fan base in Jamestown and it was pretty cool we won it in the fashion we did and in our own car. We've had a pretty good year."
Strand's Saturday win was tempered by the roll runner-up Casey Arneson took after getting pinched between Strand and the front stretch wall.
"Everything just played my way before Casey rolled, and that took a lot of the excitement out of it," he said. "I've run the Stampede five times and had some good runs but never won it."
"In North Dakota, this is the most prestigious race to win. It's been around forever and a day," he continued. "It's not about the trophy, it's about getting your name on the shirt. Now I can say I did."
Quentin Kinzley, Dalton Magers and Mike Johnson completed the top five.
Pavlicek's Friday SportMod win had featured last-lap excitement as well as Medler challenged before catching the wall and settling for second.
"We were really fast through (turns) one and two and should have run higher up in three and four," said long-time Skyrocket driver Pavlicek, who found a hole in his empty oil pan the next morning. "We got pretty lucky. I should have gone to the casino."
Zach Frederick was third, Luke Krogh fourth and Robby Rosselli fifth.
Medler's well-deserved turn in victory lane came Saturday, after staying at the track until 3 a.m. getting his car race-ready.
"I knew the track would be rubbered up on top and that I had to beat Frederick at the start," said Medler, after making his Stampede debut and nearing the end of just his second full season in a race car. "It's been an up and down season for us. I won a track championship without winning a feature race. This is pretty awesome."
"You hear a lot about the guys who come to Jamestown and win the Stampede," he added. "I grew up watching a lot of them race. To race with them and win is pretty awesome."
Frederick, Chris VanMil, Scott Jacobson and Kelly Henderson were scored next.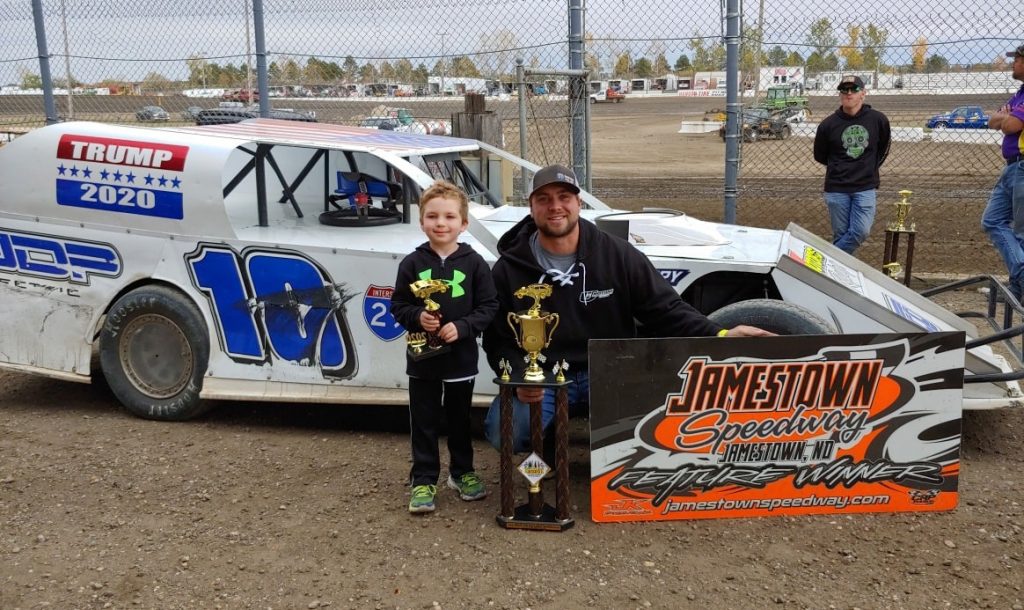 Austin Arneson scored the $1,500 IMCA Modified Fast Shafts All-Star Invitational ballot qualifying win on Friday, opening night of the Stock Car Stampede at Jamestown Speedway. (Photo by Cody Papke)
Sept. 25 Feature Results
Modifieds – 1. Austin Arneson; 2. Shawn Strand; 3. Jason Wolla; 4. Brandon Beckendorf; 5. Travis Olheiser; 6. Travis Hagen; 7. Casey Arneson; 8. Jarrett Carter; 9. Marlyn Seidler; 10. Jess Brekke; 11. Hank Berry; 12. Allen Kent; 13. Josh Eberhardt; 14. Eric Edwards; 15. Quentin Kinzley; 16. Mike Johnson; 17. Scott Gartner; 18. Tyler Hall; 19. Ryan Schroeder; 20. Chris Welk; 21. Robert Hellebust; 22. Trent Grager; 23. Randy Klein; 24. Dave Shipley.
Northern SportMods – 1. Rich Pavlicek; 2. Darren Medler; 3. Zach Frederick; 4. Luke Krogh; 5. Robby Rosselli; 6. Scott Jacobson; 7. Kelly Henderson; 8. Brady Bjella; 9. Jake Kubik; 10. Joshua Moulton; 11. Kelly Jacobson; 12. Robbie Thome; 13. Max Nelson; 14. Torey Fischer; 15. Chris Siercks; 16. Makenzie Hagen; 17. Chris VanMil; 18. John Young; 19. Paul Colvin; 20. Brandon Tendeland; 21. Josh Carson; 22. Cole Lewis; 23. Troy Jordan; 24. Brian Schaffer.
Sept. 26 Feature Results
Modifieds – 1. Strand; 2. Casey Arneson; 3. Kinzley; 4. Dalton Magers; 5. Johnson; 6. Edwards; 7. Seidler; 8. Shipley; 9. Gartner; 10. Cole Neset; 11. Olheiser; 12. Shawn Fletcher; 13. Cole Babcock; 14. Austin Arneson; 15. Kent; 16. Jesse Skalicky; 17. Jeremy Forester; 18. Jordan Sours; 19. Rusty Kollman; 20. Brekke; 21. Hagen; 22. Matt Aukland; 23. Beckendorf; 24. Greg Friestad; 25. Berry.
Northern SportMods – 1. Medler; 2. Frederick; 3. VanMil; 4. Scott Jacobson; 5. Henderson; 6. Rosselli; 7. Bjella; 8. Pavlicek; 9. Lewis; 10. Young; 11. Nelson; 12. Brock Beeter; 13. Jacob Jordan; 14. Jacobson; 15. Kubik; 16. Fischer; 17. Moulton; 18. Tendeland; 19. Hagen; 20. Krogh; 21. Colvin; 22. Brandon Ferris; 23. Thome; 24. Siercks; 25. Carson; 26. Schaffer.