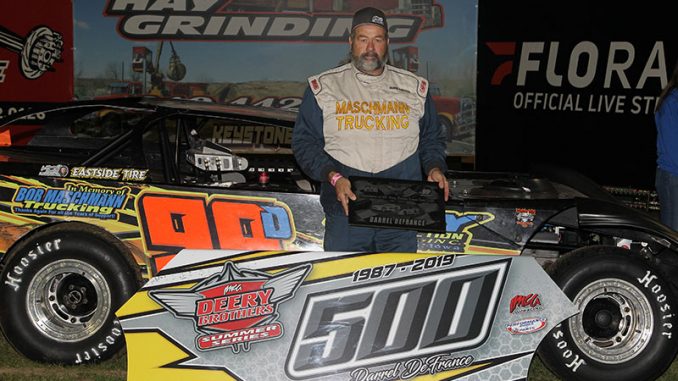 MARSHALLTOWN, Iowa (Sept. 17) – The two drivers synonymous with IMCA's Summer Series for Late Models were honored before and at the end of Marshalltown Speedway's Dale DeFrance Me­morial. 
Darrel DeFrance, Dale's son, was recognized for his perfect attendance through the series' 500th and final event. Jeff Aikey won that final feature, leading all but the first three of 44 laps to win for the series-best 71st time.
One of, if not the most respected drivers in division history, the Ironman DeFrance received a custom door panel, a stone plaque engraved with pictures of his cars from different eras, and a die cast replica of his father's race car during pre-race ceremonies.
A standing ovation from his hometown fans followed congratulations from IMCA officials and pro­moter Toby Kruse.
"I raced every race I could, trying to win every race I could," DeFrance said of his streak.
The Late Model feature brought the third annual special to a close. Dave Wada led the first two times around the track before Aikey took charge, checking out on the rest of the field before a caution brought the field back together with five laps left.
He pulled away again, taking the $3,044 checkers more than half a straightaway ahead of Matt Ryan, Justin Kay, Gary Webb and DeFrance.
"I had a hell of a career in the Summer Series. I'm proud to have been part of it," Aikey said. "I'm just stunned. I was proud to win tonight."
Kay had started 17th, series veteran Webb ran second most of the way and DeFrance rounded out the top five after starting 12th.
"Jeff was good tonight. It was a fun night," said DeFrance, who also watched as daughter Brittany ac­cepted the marriage proposal from Dale Heinzer during pre-race. "The only thing that could have made it better was if I won."
DeFrance had finished eighth, Aikey 17th in the first-ever Summer Series event on April 11, 1987 in West Burlington; 17 series championships and 209 feature wins were represented by drivers in the field at Marshalltown.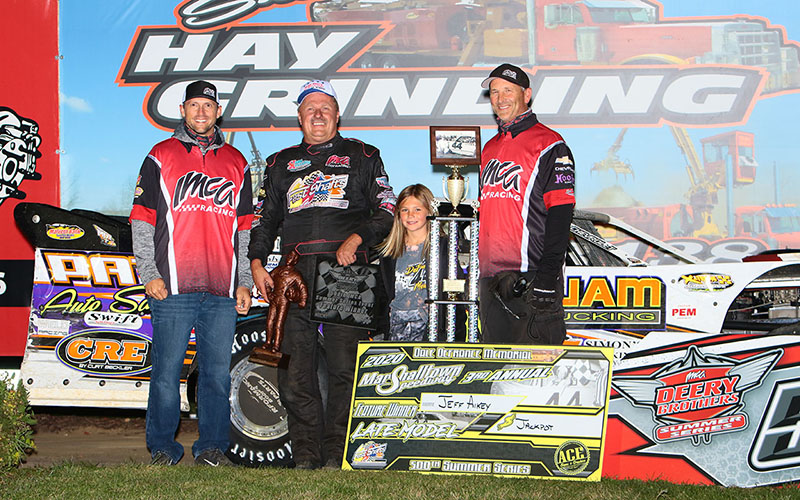 Ironman Darrel DeFrance was recognized for perfect attendance and unswaying support when the 500th and final Summer Series for IMCA Late Models event was held Thursday night at his hometown Marshalltown Speedway. (Photo by Jim Zimmerline)
One hundred and seventy-eight cars saw action Thursday, leading into the two-day World Nation­als. 
Cody Laney earned $1,219 and a Fast Shafts All-Star Invitational ballot berth for his IMCA Modi­fied win ahead of Tim Ward and hard charger Tom Berry.
After different drivers led each of the first four laps, Jeff Mueller outran Dallon Murty and Damon Murty to the IMCA Sunoco Stock Car checkers.
Brayton Carter led start to finish in the Karl Kustoms Northern SportMod feature, leading Johna­thon Logue and Dylan VanWyk across the stripe.
And Nathan Ballard took the lead just before halfway, winning the IMCA Sunoco Hobby Stock feature ahead of Luke Schluetter and Marcus Wayne.
Summer Series feature results – 1. Jeff Aikey, Cedar Falls; 2. Matt Ryan, Davenport; 3. Justin Kay, Wheatland; 4. Gary Webb, Blue Grass; 5. Darrel DeFrance, Marshalltown; 6. Dave Wada, Wilton; 7. Andy Nezworski, Buffalo; 8. Ben Seemann, Waterloo; 9. Logan Duffy, Independence; 10. Curtis Glover, Knoxville; 11. Greg Kastli, Waterloo; 12. Joe Zrostlik, Long Grove; 13. Bobby Hansen, Center Point; 14. Jill George, Cedar Falls; 15. Curt Schroeder, Newton; 16. Curt Martin, Independence; 17. Joel Callahan, Dubuque; 18. Darin Duffy, Urbana; 19. Eric Pollard, Peosta; 20. Shawn Cooney, Des Moines; 21. Richie Gustin, Gilman; 22. Kyle Krampe, Baxter; 23. Nick Marolf, Moscow; 24. Andy Eckrich, Oxford.