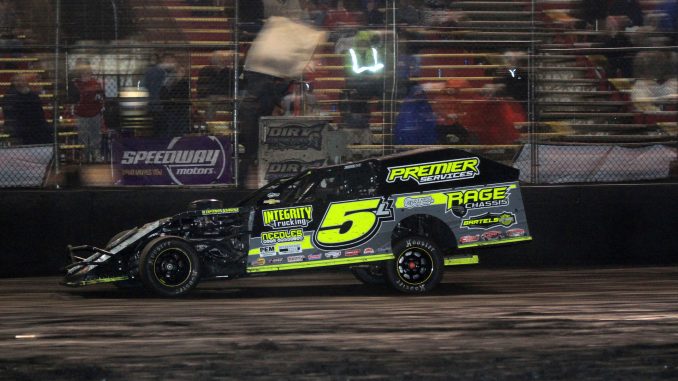 BOONE, Iowa (Sept. 10) – A quick Californian and a driver who already has an impressive collection of IMCA Speedway Motors Super Nationals fueled by Casey's hardware were qualifying feature winners Thursday at Boone Speedway. 
Cody Laney of Torrance, Calif., started 12th and led the last half of the first qualifier for IMCA Modifieds, winning ahead of Trent Loverude, Steven Bowers Jr. and Matthew Meinecke.
Ricky Thornton Jr. also raced from outside row six, catching Kevin Ramey for the front spot just before midway and taking the checkers ahead of Justin O'Brien, hard charger Clay Hale and James Goodson in the second show.
The top four finishers from each qualifier represent six different states and will advance to the inside row for the main event grid.
Jesse Skalicky and Trent Loverude led in the opener before Laney took charge. He kept Loverude in check following the final restart with four laps left. Thornton, the 2016 Modified champion two-time and now two-time defending Late Model king, was able to pull ahead as the nightcap ended with nine green flag laps.
Thornton makes his career seventh start in the Modified main event, Laney his fifth straight, O'Brien his career fourth, Bowers his third and Loverude and Meinecke both the second. Hale, who had started way, way back in 29th, and Goodson are first-time qualifiers.
Results
1st qualifying feature – 1. Cody Laney, Torrance, Calif.; 2. Trent Loverude, New Ulm, Minn.; 3. Steven Bowers Jr., Topeka, Kan.; 4. Matthew Meinecke, Jamaica; 5. Zachary Madrid, Phoenix, Ariz.; 6. Scott Drake, Diamond, Mo.; 7. Chad Ten Napel, Sioux City; 8. Clay Money, Penokee, Kan.; 9. Jesse Skalicky, Fargo, N.D.; 10. Mike Petersilie, Hoisington, Kan.; 11. Kollin Hibdon, Pahrump, Nev.; 12. Chris Elliott, Abilene, Texas; 13. Zane DeVilbiss, Farmington, N.M.: 14. Todd Shute, Norwalk; 15. Matt Guillaume, Haslet, Texas; 16. Mark Schafman, Edwardsville, Kan.; 17. John Parmeley, Phoenix, Ariz.; 18. Tony Hardisty, Corning; 19. John McCaul, Montague, Mich.; 20. Darin Roepke, LeMars; 21. Mike Albertsen, Audubon; 22. Regan Tafoya, Farmington, N.M.; 23. Albert Wolfgram, Boone; 24. Tim Czarneski, Denmark, Wis.; 25. Jay Matthias, Green Bay, Wis.; 26. Jimmy Gustin, Marshalltown; 27. A.J. Ward, Ionia, Mich.; 28. Ethan Braaksma, Newton; 29. Randy Havlik, Ankeny; 30. Mitchell Hunt, Kent City, Mich.
2nd qualifying feature – 1. Ricky Thornton Jr., Adel; 2. Justin O'Brien, West Union; 3. Clay Hale, Cameron, Mo.; 4. James Goodson, Little Rock, Ark.; 5. Kevin Ramey, Fort Worth, Texas; 6. Collen Winebarger, Corbett, Ore.; 7. Ricky Stephan, Sioux City; 8. Dan Roedl, Beaver Dam, Wis.; 9. Clint Wendel, Mason City; 10. R.J. Merchant, Sioux City; 11. Kelsie Foley, Tucson, Ariz.; 12. Russ Dickerson, Boone; 13. Jesse Sobbing, Malvern; 14. Chris Abelson, Sioux City; 15. Tanner Black, Otis, Kan.; 16. Jeff Feaster, Dakota City; 17. Tony Hilgenberg, Waukee; 18. Jeremy Mills, Britt; 19. Josh Munsen, Atchison, Kan.; 20. Corey Lagroon, Salina, Kan.; 21. Matt Bonine, Onawa; 22. Cayden Carter, Oskaloosa; 23. Paul Stone, Winton, Calif.; 24. Mike Van Genderen, Newton; 25. Robert Avery, Des Moines; 26. Daniel Fellows, Keokuk; 27. Trever Sloan, Lake Odessa, Mich.; 28. Michael Thing, Campo, Calif.; 29. Tim Ward, Chandler, Ariz.; 30. William Gould, Calera, Okla.