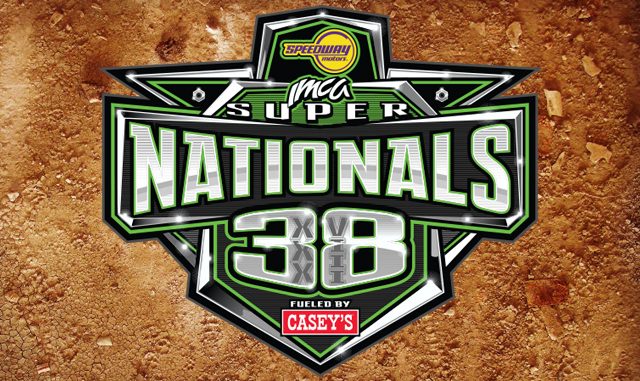 BOONE, Iowa – The following drivers have pre-registered for the IMCA Speedway Motors Super Nationals fueled by Casey's and will be eligible to qualify for their respective Race of Champions event. Drivers not listed will not be eligible to qualify … no exceptions.
Drivers eligible for the Harris Auto Racing IMCA Modified Race of Champions:
Chris Abelson, Jeff Aikey, Keaton Atkinson, Brandon Beckendorf, Tom Berry, Josh Blumer, Steven Bowers Jr., Ethan Braaksma, Kellen Chadwick, Chad Clancy, Beau Collins, Troy Cordes, Shane DeMey, Zane DeVilbiss, Brenten DeYoung, Ethan Dotson, P.J. Egbert, Grey Ferrando, Zach Fettinger, Kelsie Foley, Josh Gilman, David Goode Jr., Daniel Gottschalk, William Gould, Matt Guillaume, Jimmy Gustin, Richie Gustin, Clay Hale, Clint Hatlestad, Randy Havlik, Mitchell Hunt, Bricen James, Aaron Johnson, Lucas Lamberies, Jeff Larson, Ronn Lauritzen, Dennis LaVeine, Josh Long, Wade Lumsden, Ryan McDaniel, Zachary Madrid, Dan Menk, Nick Meyer, Chris Mills, Jeremy Mills, Clay Money, Bob Moore, Joe Mullins, Josh Munsen, Jay Noteboom, Chris Palsrok, Jesse Rogotzke, Anthony Roth, Joel Rust, Johnny Saathoff, Cory Sample, Clay Sellard, Kelly Shryock, Todd Shute, Jesse Skalicky, Brad Smith, Jesse Sobbing, Dakota Sproul, Ricky Stephan, Jeff Stephens, Todd Stinehart, Regan Tafoya, Jeff Taylor, Jim Thies, Ricky Thornton Jr., A.J. Ward, Tim Ward, John Webb, Ashton Wilkey and Jason Wolla.
Drivers eligible for the Sunoco Race Fuels IMCA Stock Car Race of Champions:
Jeffrey Abbey, Trace Ayers, Travis Baird, Travis Barker, JJ Baumli, Brian Blessington, Randy Brands, Austin Brauner, Troy Burkhart, Jeremy Christians, Mike Coel, Brandon Czarapata, Mikey Dancer, Scott Davis, Sean Gentry, Derek Green, Ryan Harris, Austin Jahnz, Chad Krogmeier, Dustin Larson, Jeffrey Larson, Luke Lemmens, Justin Luinenburg, Dan Mackenthun, Dallon Murty, Damon Murty, Mike Nichols, Chris Oliver, John Oliver Jr., Kevin Opheim, Blake Peeler, Kenzie Ritter, Mich Ross, Jay Schmidt, Jason Schoenberger, Chad Schroeder, Kelly Shryock, David Smith, Devin Smith, Donavon Smith, Johnny Spaw, Shane Stutzman, Troy Swearingen, Ricky Thornton Jr., Jeff Tubbs, Dusty Van Horn, Brett Woznicki and Leah Wroten.
Drivers eligible for the Stephenville Starter IMCA Hobby Stock Race of Champions:
Zach Ankrum, Zach Bales, Nathan Ballard, Josh Barnhart, Brady Bencken, Solomon Bennett, Tathan Burkhart, Tan­ner Clough, Joshua Cordova, Brandon Cox, David Crimmins, Tim Gonska, Andrew Harris, Sal Hernandez, Andy Hoffman, Dustin Jackson, Randy Lamar, Chuck Madden, Dylan Nelson, Brandon Nielsen, Cody Nielsen, Matt Olson, Joe Peterson, Kaden Reynolds, Dillon Richards, Nicholas Ronnebaum, Aaron Rudolph, Malik Sampson, Mike Smith, Bryce Sommerfeld, Alex Tvedt, Jeff Ware and Jason Wilkinson.
Drivers eligible for the BSB Manufacturing Northern SportMod Race of Champions:
Caden Appelt, Adam Armstrong, Brett Berry, Adam Birck, Jorddon Braaten, Brayton Carter, Ben Chapman, Steve Clancy, Tim Eaton, Alec Fett, Colby Fett, Jarett Franzen, Kamren Gruber, Jarred Hackler, Jacob Hagemann, Jim Horejsi, Chance Huston, Tyler Inman, Taylor Kuehl, Colby Langenberg, Johnathon Logue, Hunter Longnecker, Dusty Masolini, Cameron Meyer, Gage Neal, George Nordman, Zech Nor­gaard, Kyle Ol­son, Tony Olson, Bo Partain, Ty Rogers, Jason Roth, Jake Sachau, Jayden Schmidt, Austin Schrage, Doug Smith, Nate Smith, Tyler Sobiesczyk, Tyler Soppe, Luke Stallbaumer, Cody Thomp­son, Carter VanDenBerg, Tyler Watts and Chris Wright.