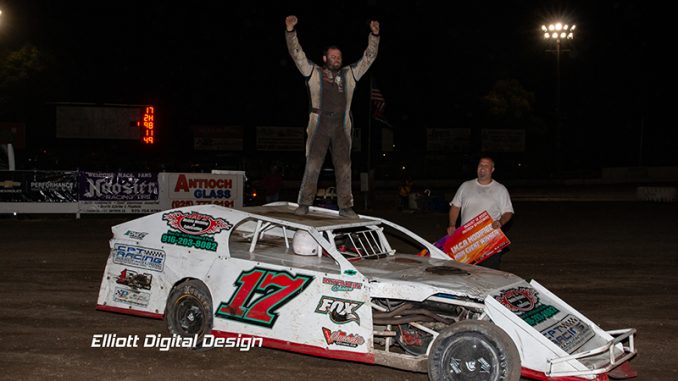 By Stephanie Deatherage 
ANTIOCH, Calif. (Aug. 12) – Nick DeCarlo became a first-time winner while the Garrett Jernagan show kept rolling on night three of California IMCA Speedweek presented by Hoppes Motorsports at Antioch Speedway.
DeCarlo's $1,000 IMCA Modified checkers put him on the Fast Shafts All-Star Invitational ballot while Jernagan banked a third straight $750 Karl Kustoms Northern SportMod winner's check.
Robby Sawyer set the tone early in the Modified main, quick out of the box but getting company up front as the long green flag run developed. DeCarlo hunted down Sawyer, caught him on lap six and took off from there.   
DeCarlo pulled away from the lead pack after each of three restarts. Bobby Hogge IV gave chase but couldn't quite catch the leader as DeCarlo, who lined up third on the initial grid, went on to become the third different winner in as many nights of Speedweek.  
Robby Sawyer ended the race third, Danny Wagner was fourth and Jerry Flippo fifth.
Guy Ahlwardt took charge of the Karl Kustoms Northern SportMod field, which stayed close as a result of four cautions. After the final stoppage, on lap 18, Guy got some fast company.
Jernagan, who started ninth, got a great run and seized the lead on the 19th circuit, then pulled away and went unchecked.
Ahlwardt was second and third went to Fred Ryland.
Forty-nine IMCA Modifieds and 39 Karl Kustoms Northern SportMods were at Antioch for the Wednesday night bout.
The fourth round of the 2020 California Modified Speedweek presented by Hoppes Motorsports heads to Merced Speedway on Thursday, Aug. 13. All races of the 2020 Speedweek have lap-to-lap coverage courtesy of FloRacing. For more information be sure to visit the California Modified Speedweek Facebook page.
Feature Results
Modifieds – 1. Nick DeCarlo; 2. Bobby Hogge IV; 3. Robby Sawyer; 4. Danny Wagner; 5. Troy Foulger; 6. Jerry Flippo; 7. Jake Pike; 8. Ryan Daves; 9. Cody Burke; 10. Tom Smith; 11. Aaron Crowell; 12. Brian Cass; 13. Kellen Chadwick; 14. Shane DeVolder; 15. Paul Stone; 16. Jim Pettit II; 17. Trevor Fitz-Gibbon; 18. Bobby Motts; 19. Mike White; 20. Zane DeVilbiss.
Northern SportMods – 1. Garrett Jernagan; 2. Guy Ahlwardt; 3. Fred Ryland; 4. Brent Curran; 5. Andrew Peckham; 6. Chase Thomas; 7. Todd Gomez; 8. Kenny Shrader; 9. Trevor Clymens; 10. Doug Hagio; 11. Tanner Thomas; 12. Andrew Pearce; 13. Mark Garner; 14. Ethan Killingsworth; 15. Jacob Haas; 16. Trevor Tiffee; 17. Sheyne Bradley; 18. Nick Spainhoward; 19. Tom Fraser; 20. Kenny Neu.