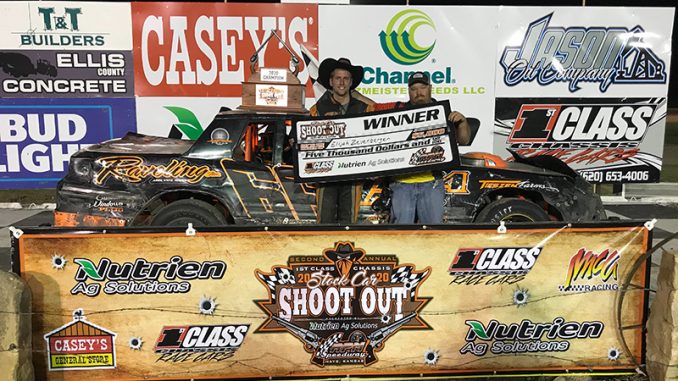 HAYS, Kan. (Aug. 11) – A season that's already seen its share of career-type highlights saw Elijah Zevenbergen in victory lane again Tuesday night.
Zevenbergen held off challenges from Dallon Murty before taking the $5,000 checkers at RPM Speedway's 1st Class Chassis Shootout for IMCA Sunoco Stock Cars. Murty ran in the top three all 40 laps and stayed alongside or right behind Zevenbergen until taken out of contention by a flat tire on the final circuit.
"We wanted to bide our time, conserve our tires and be patient, and it all worked out for us," said Zevenbergen. "The car was phenomenal."
Abe Huls led the first 24 laps and ended the night in second. Angel Munoz, Jeff Tubbs and Jason Rogers rounded out the top five.
The front three of Huls, Murty and Zevenbergen had started putting distance on the rest of the field following a lap five restart as Jesse Sobbing and then Kyle Pfeifer ran in fourth.
Zevenbergen finally corralled Huls for the point on lap 25, then swapped the lead with Murty each of the next two laps before the final caution of the contest waved with 13 to go.
Munoz cracked the top four while the finish up front was shaping up to be a barnburner. That race ended with Murty's misfortune and put Huls back up to second at the pay window.
Tyler Tipton advanced nine spots to finish sixth.
A five-time Dakota Classic Tour winner this summer, Zevenbergen had also taken home the big check from Stuart Speedway's Dirt Duel in June.
Feature results – 1. Elijah Zevenbergen, Ocheyedan, Iowa; 2. Abe Huls, Carthage, Ill.; 3. Angel Munoz, Lamar, Colo.; 4. Jeff Tubbs, Colby; 5. Jason Rogers, Selden; 6. Tyler Tipton, Weskan; 7. Kyle Pfeifer, Hill City; 8. Colin Heim, Hoxie; 9. Damon Murty, Chelsea, Iowa; 10. Nick Tubbs, Colby; 11. Troy Burkhart, Hays; 12. Kyle Vanover, Beatrice, Neb.; 13. Jesse Taylor, Fort Morgan, Colo.; 14. Trenton Kleweno, Hays; 15. Dallon Murty, Chelsea, Iowa; 16. Barrett Wagoner, Colby; 17. Dominic Thyfault, Wakarusa; 18. Jeffrey Abbey Comanche, Texas; 19. Jesse Sobbing, Malvern, Iowa; 20. Jeramey Bradley, Gardendale, Texas; 21. Mike Petersilie, Hoisington, Kan.; 22. Mike Nichols, Harlan, Iowa; 23. Buck Schafroth, Orient, Iowa; 24. Kyle Falck, Decorah, Iowa.