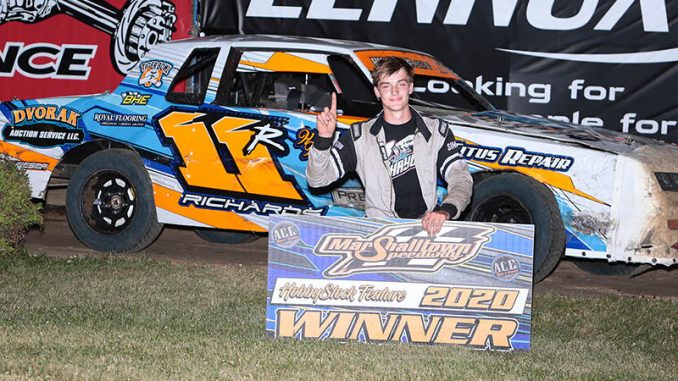 By Joyce Eisele 
MARSHALLTOWN, Iowa (July 17) – The Chelsea Charger Damon Murty went home $1,000 richer when he took the IMCA Sunoco Stock Car checkers and Braden Richards took the bounty money in the IMCA Sunoco Hobby Stocks as well as getting his first career win Friday at Mar­shalltown Speedway.
The featured race of the evening was the 20-lap event for Stock Cars. Veteran Robert Stofer led the opening laps but soon had a flying Murty coming fast on the topside, and running him down.
On lap four, Murty took command, sailing to the lead.  A caution at lap nine saw Stofer briefly take back the lead on the restart, only to have Murty come right back around and into the lead, keep­ing it to the checkers and the $1,000 payday.  Dustin Vis took the runner up spot, Steve Meyer made a late race charge to finish third, Kenzie Ritter had a good run and finished fourth, and Da­vid Brandies came home in fifth. 
There was a $350 bounty hanging over the head of the unbeaten Kaden Reynolds going into the night's 15-lap Hobby Stock feature. At the end of the race, that bounty was claimed and the driver who did it would have his first-ever win under his belt.
Richards started on the outside front row and immediately claimed the lead. Richards navigated the High Banks at the front of the pack lap after lap as Brett Vanous began reeling him in. A slight bobble coming out of turn four at lap 13 allowed Vanous to take the top spot away. 
A late yellow then sent the race into a green, white, checkered finish. Vanous kept hold of the top spot as the white flag flew, but a slide by Richards out of turn four as the checkers unfurled, got him the momentum to push him across the finish line first. Vanous had to settle for second, third went to 19th place starter Bill Bonnett, Solomon Bennett started 15th and finished fourth and Reyn­olds rallied from an early race incident, had to tag the field, but still finished fifth.
Tom Berry Jr. took the victory in the IMCA Modified division, Logan Duffy captured his second win of the season in the IMCA Sunoco Late Models and Brayton Carter made it back-to-back wins in the Karl Kustoms Northern SportMods.