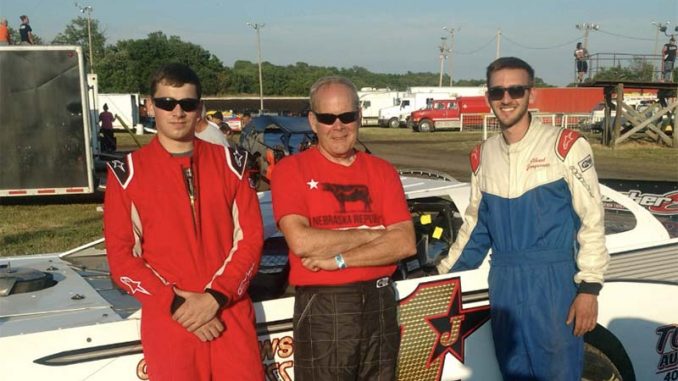 HARLAN, Iowa – When the checkers flew at the conclusion of the June 20 IMCA Sunoco Late Model feature at Shelby County Speedway, the happiest driver in the race was probably the guy who finished ninth.
Veteran Dave Jorgensen of Elkhorn, Neb., turned laps with grandsons Robbie and A.J. for just the second time this season that evening – a third racing grandson, Jakes, was on a fishing trip that Father's Day weekend – and there were smiles all around before and after the show.
"Racing binds us together. I get to see them more so it's time well spent," said Jorgensen. "When I'm 75 or 80 it will be fun to look back, and I'm sure they'll feel the same way."
Jorgensen's son Dave Jr. retired after winning a track championship of his own and now serves as crew chief for his dad and boys. Robbie started racing in 2014 and was joined by A.J. in 2015 and Jake in 2019.
"There are times you want to give them extra room but I try to race them like I would anyone else," Jorgensen said. I'm tickled to death if they pass me and it makes me feel good if I can pass them."
After wrecking his ride, Robbie bought a new car from Curt Martin and picked it up in Independence on July 4. That brought Team Jorgensen back up to its full complement of four cars but still just three trailers.
"We had all four cars on the track for the Tiny Lund last fall," Jorgensen said. "We'll try to get a couple more nights where there are three or four of us racing yet this season."