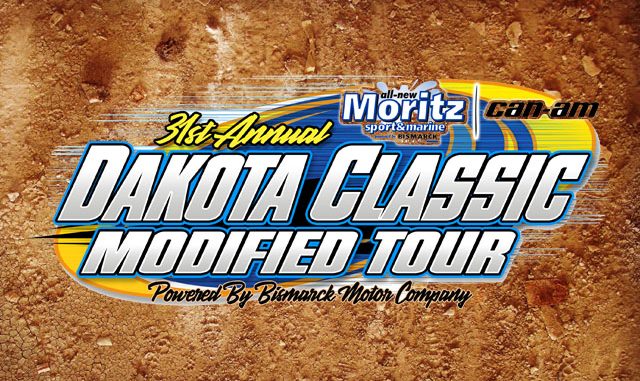 MINOT, N.D. (July 12) – The battle was for second place on night three of the Dakota Classic Modified Tour.
Ricky Thornton Jr. started on the pole and stayed in front every time around the Nodak Speed­way oval, earning $2,400 for his latest IMCA Modified tour checkers. He was catching up with the back of the field just after midway when the caution came out and took traffic temporarily out of the equation.
The top five pulled away after the ensuing restart and while Thornton was lapping cars the final five circuits, Austin Arneson, Jason Wolla, Eddie Belec and Spencer Wilson could not catch the leader and followed him across the stripe on that order.
Elijah Zevenbergen ran his streak to three straight IMCA Sunoco Stock Car tour checkers. Chanse Hollatz and Dalton Flory took turns at the point before Zevenbergen gained the lead 10 laps in.
Feature Results
Modifieds – 1. Ricky Thornton Jr.; 2. Austin Arneson; 3. Jason Wolla; 4. Eddie Belec; 5. Spencer Wil­son; 6. Robert Hellebust; 7. John Corell; 8. Billy Kendall III; 9. Jacob Bleess; 10. Casey Arneson; 11. Travis Hagen; 12. Marcus Tomlinson; 13. Travis Olheiser; 14. Kelsie Foley; 15. Ryan Gaylord; 16. Tripp Gaylord; 17. David Brown; 18. Zach Dockter; 19. Travis Tooley; 20. Grey Fer­rando; 21. Matt Aukland; 22. John Hansen; 23. Jerad Thelen; 24. Shawn Strand; 25. Tanner Black; 26. Alex Stanford; 27. Jeff Taylor; 28. Ricky Alvarado; 29. Hank Berry.
Stock Cars – 1. Elijah Zevenbergen; 2. Dalton Flory; 3. Chanse Hollatz; 4. Matt Speckman; 5. Joe Flory; 6. Angel Munoz; 7. Adam Goff; 8. Mike Swallers; 9. Dave Swallers; 10. Jace Iverson; 11. Cody St. Croix; 12. Chris Ellis; 13. Brennan Borg; 14. Kevin Roberts; 15. Austin Daae; 16. Beau Deschamp; 17. Keith Mattox; 18. Travis Ulmer; 19. Mike Hagen; 20. Eric Mahlik; 21. Mi­chael Logelin; 22. Jordan Zillmer; 23. Jake Brown; 24. Tripp Gaylord.