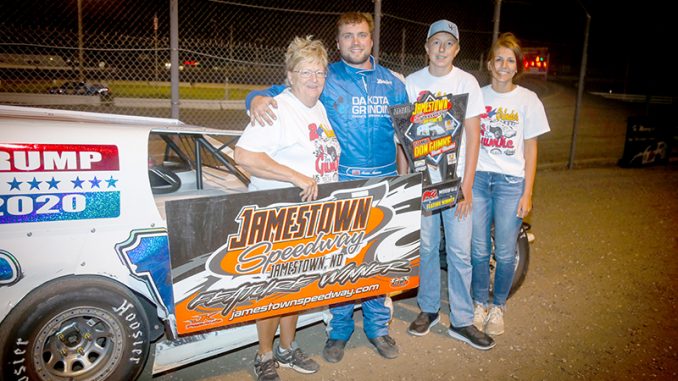 JAMESTOWN, N.D. (June 13) – An IMCA Modified driver with a knack for winning big races won another of them Saturday night at Jamestown Speedway.
Austin Arneson led all 30 laps in topping the Don Gumke Racers' Memorial while Jason Grimes finished second in Gumke's no. 2 car, which had come out of the Arneson shop.
"It's pretty cool any time you can win a memorial race, especially when you knew the guy," said Arneson. "I'm proud to say I've accomplished this. It means a lot to me to have won this race."
Arneson had drawn the pole and Grimes the outside front row start for the inaugural special. The race stayed green past the halfway mark before two back-to-back cautions. Arneson then shut the door on his challengers, leading Grimes, Billy Kendall, Spencer Wilson and 12th starting John Corell to the checkers.
"Jason gave it a good shot," said Arneson, who counts a Stampede victory at Jamestown among his marquee feature wins. "But I've been doing this long enough that I knew how to protect the lead."
Already on the Fast Shafts All-Star Invitational ballot, he earned $2,222 for the win, plus $222 bonuses for leading laps two and 22.
Gumke, a long-time Modified and Late Model driver as well as Jamestown Speedway owner, passed away in January. Forty-four IMCA Modifieds contested the first annual special.
Feature results – 1. Austin Arneson; 2. Jason Grimes; 3. Billy Kendall; 4. Spencer Wilson; 5. John Corell; 6. Casey Arneson; 7. Shawn Strand; 8. John Nord; 9. Michael Johnson; 10. Jason Wolla; 11. Hank Berry; 12. Trent Grager; 13. Eric Edwards; 14. Travis Olheiser; 15. Jesse Skalicky; 16. Rusty Kollman; 17. Robert Hellebust; 18. Lucas Rodin; 19. Tyler Hall; 20. Zach Dock­ter; 21. Jordan Sours; 22. Josh Jones; 23. Dave Shipley; 24. Jarrett Carter; 25. Darren Pfau.