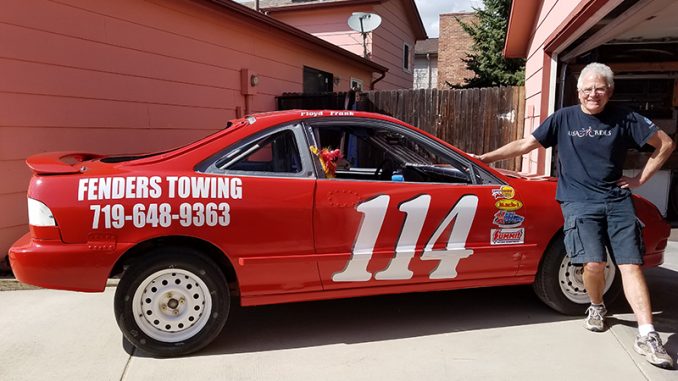 COLORADO SPRINGS, Colo. – Race fans with an appreciation for the local history of the sport will enjoy seeing Floyd Frank on track again in 2020.
Frank's Mach-1 Sport Compact has the retro look of the 1955 Chevrolet his father A.J. wrenched on as a crew member for a neighbor in the late 1960s and early 1970s.
"We were at the track every Saturday night," said Floyd, from Colorado Springs, Colo. "This car is a 2000 Acura Integra and it's the first car I built myself. It took three months, which is longer than I thought it would. The only thing I stole from my old car was the roll bar."
His "old car" put Floyd in victory lane following six of his 21 starts last season. Coming off an eight-win campaign the year before, 2019 was arguably a better year when his El Paso County Raceway track and E3 Spark Plugs State championships are figured in.
"We had a lot of opportunities to win last season," said Floyd, who can laugh – now – about the night he ran out of gas while leading. "Seat time has definitely helped me, and the fact that my brother Sean focused on pavement racing eliminated one of my main rivals."
Sean, who will race IMCA this season, was competing in a local 4-cylinder class when he asked Frank if he'd like to borrow his car for a mechanics' race at Calhan six years ago.
"I told him I wasn't interested but changed my mind about two weeks later," said Floyd, who had run motocross and won the veteran amateur division state crown in 1995. "I started fifth, finished third and fell in love with it. That just woke up my racing bug."
Track champion at El Paso in 2016, Floyd owns 20 feature wins over the course of his Sport Compact career. Four of his wins last season came at Honor Speedway.
"We don't have any goals for this season We want to get out there and race," said Floyd, now retired after operating print binding machinery for 30 years. "We do this to have fun."