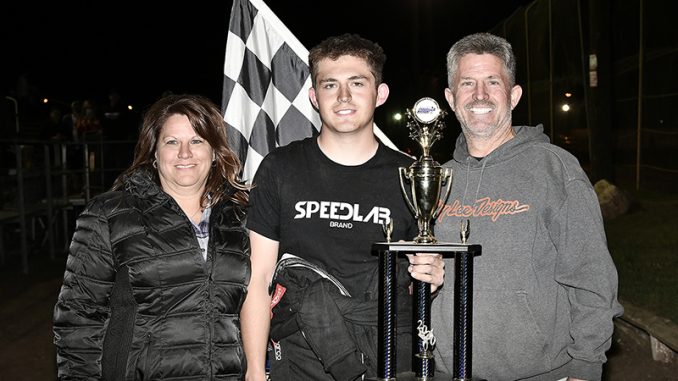 GLENDALE, Ariz. – His career first Karl Kustoms Northern SportMod feature win in hand, Clay Erickson can now sharpen his focus on chasing points.
Erickson had recorded seven top five finishes in 13 starts before topping the March 7 main event at Canyon Speedway Park. He'd been the runner-up in two of the three outings that preceded that first-ever win.
"We had gained a lot of confidence and knew we could run up there. It's just been a matter of seat time and finishing races," said Erickson, from Glendale and consistent throughout February's Arizona Dirt Track Tour. "We'd come close a couple times and it was just a relief to win. We were finally able to finish."
"We were so happy. So many people who have supported us we're there that night," he added, "and everybody was excited."
Erickson's father David had raced in a local stock class at Manzanita Speedway. He ran a go-kart for a single season as a youngster, then followed friend Tony Miller into the Northern SportMod class on the final weekend of the 2019 IMCA Speedway Motors Weekly Racing point season.
"We had kind of a rough start but I really like the competition in the SportMods. They keep you on your toes," he said. "I got to talk to (2019 national runner-up) Cody Thompson about setup during the tour and I've had a lot of fun in this class."
Erickson plans to resume a regular race schedule at home state tracks – Canyon and USA Raceway top his list of favorites. He'll also chase national rookie and E3 Spark Plugs State points, where his completion will include younger brother and fellow BMS Chassis driver Justin, who will contend for the National Junior Championship as well.
"He had some bad luck at the beginning of the year and I actually passed him when I got the win at Canyon," Erickson said. "We respect each other but it's no different than when I'm racing against anyone else."
Twenty years old, Erickson works at the family-owned fleet maintenance shop. Among the specials on his late-season calendar is the Duel In The Desert at Las Vegas Motor Speedway.