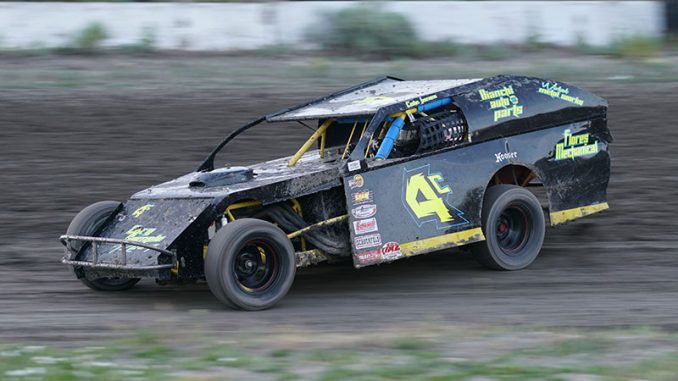 WINNEMUCCA, Nev. – Cole Jones looked forward to the level of competition he faced in his home state of Nevada as an IMCA Modified rookie. 
He'll look to improve on a learning season of consistent finishes with his first career feature win in the division this year.
The 17-year-old speedster and Lowry High School senior moved up to the Modified after success­ful stints in both go-karts and a local 4-cylinder mini mod class. Twenty of his 22 starts in 2019 came at Nevada venues, including seven at hometown Winnemucca Regional Raceway.
"We felt good about what we had accomplished in a mini mod and wanted to see if we could com­pete in an IMCA Modified," Jones explained. "There are a lot of IMCA Modifieds in the area and the level of competition is very high."
"The learning curve was huge. The speed and suspension in a Modified is way different than in a mini mod," he continued.
Jones also took his on-track education to Battle Mountain Raceway, Summit Raceway, Lovelock Speedway and Fernley 95A Speedway, and ventured to California's Diamond Mountain Speed­way for a couple outings over the Fourth of July holiday.
He made the trip to Susanville with a couple heavy hitters, former Shaw Race Cars Western Re­gion champion Cory Sample and Andy Strait.
"I'd raced in California before but never in a Modified," Jones said. "I wanted to race at a different track against different people. We had a lot of fun and we learned a lot."
Jones is the first driver in his family. He'd watched races at Battle Mountain with his father Jeff and quickly decided he wanted to be more than a spectator.
"They could tell how much I was intrigued by it," said Jones, who started racing in a go-kart pur­chased from a family friend. "My dad is my crew chief now and he enjoys it just as much as I do."
Jones will primarily chase points this season at Winnemucca, Battle Mountain and Summit. He also plans to follow part of the 1st Class Chassis Wild West Tour.
"There's a lot I'm missing out on now (because of the Covid-19 outbreak) like prom, graduation and watching my friends play baseball," he said. "The car is done and ready to go. We're just wait­ing on a race."
He'll study diesel technology this fall at Great Basin College in Elko.