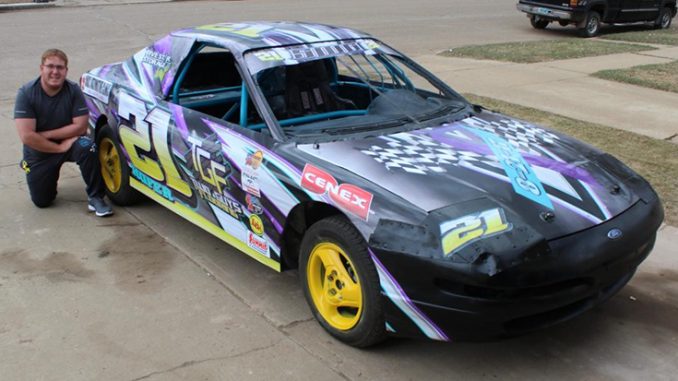 HEBRON, N.D. – Tanner Hofer is racing for much more than feature wins and track championships this season.
The third-year Mach-1 Sport Compact driver from Hebron will donate half his winnings to the North Dakota chapter of the American Foundation for Suicide Prevention.
North Dakota has the 10th highest suicide rate in the nation, claiming the life of one state resident every 57 minutes. Hofer decided to dedicate his upcoming campaign to the cause of prevention and awareness following the Aug. 21, 2017 death of his cousin A.J.
"A.J. is the biggest part of why I'm doing this. I race for him and under him. I feel like I'm racing for him every time I race," said Hofer, who will take to the track in a car wrapped by Demon Decals and with a hood emblazoned with the suicide awareness ribbon, the date of A.J.'s death and checkered flags symbolizing angel's wings.
"The hood is for my cousin. The car is for everyone has gone through this. We'll accept donations and hope to make a check presentation after the season," he added. "I had talked to my parents (Daryl and Toni) before I decided to do this and the wrap has been very well received. We have new video on my racing Facebook page and I talk about the car and our mission."
Hofer's ride will be displayed as part of Facebook car shows before seeing weekly action at Dacotah Speedway in Mandan and Southwest Speedway.
He'll look to improve on last season's runner-up finish at Dickinson while catching regular and special events as his work and travel schedule permit.
"I'd always wanted to race and just fell in love with it. "The Sport Compacts were a good class for me to get started in," said Hofer, a brick maker by profession. "I travel with my parents and we try to travel as much as possible. I want to get my name out there while I'm racing at different tracks."