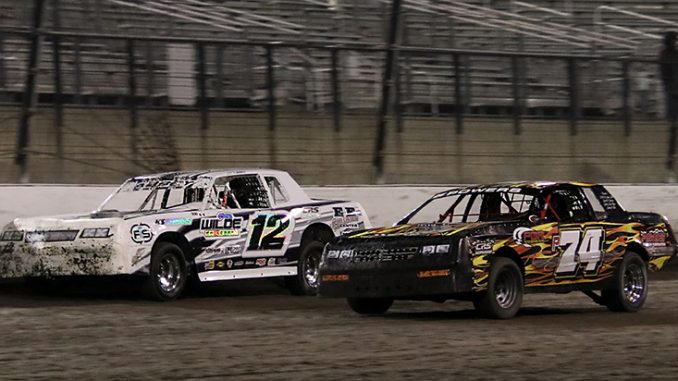 FORT WORTH, Texas (Feb. 20) – Being faster by a fraction of a second coming out of the final turn made Westin Abbey rich Thursday night.
Abbey raced all the way from 17th starting to the front of the Dirty 30 IMCA Sunoco Stock Car feature field at Texas Motor Speedway, beating Ryan Powers to the checkers by half a car length as the pair ran side-by-side to the finish.
The Comanche speedster took home $3,000 for the victory. Also winner of the Sniper Speed Lone Star Tour opener at Abilene Speedway on Saturday, he'll meet the final requirements for a $10,000 bonus by competing in the final two tour events Friday at Monarch Motor Speedway and Saturday at Kennedale Speedway Park.
"Whew! After starting back there in 17th, I didn't know how that was going to end," Abbey said from victory lane. "I saw him (Powers) coming and stood on it."
Fourteenth starting Jeffrey Abbey, Derek Green and 27th starting Abe Huls completed the top five.
Sixty-eight drivers vied in the fourth installment of the Lone Star Tour, which had seen last-chance qualifying and main events postponed from Wednesday because of inclement weather. Westin Abbey qualified by winning his 'B' feature on Thursday.
Chad Schroeder and Powers took their turn up front in the main event, with Abbey into fifth by lap nine and scored second when the next circuit was scored.
Abbey was just ahead of Powers at the end of lap 11 and ran ahead of a succession of would-be challengers before the final caution with three to go.
Powers took second on the restart and came oh-so-close in denying Abbey the big win, his third of the tour and third in five starts in a new ride.
R.C. Whitwell was the $2,000 IMCA Modified winner after starting 10th and battling early visibility issues resulting from a loose hood.
Anthony Roth, Jon White Jr. and Drew Armstrong split time in the lead before Whitwell reached the front. The last half of the 30-lapper stayed green after back-to-back cautions at halfway and Whitwell, already on the Fast Shafts All-Star Invitational ballot, checked out from that point.
Roth, 13th starting William Gould, White and Shane DeMey were scored next. Abilene winner Jesse Sobbing was also in the running for a $10,000 bonus but was a DNF after starting seventh.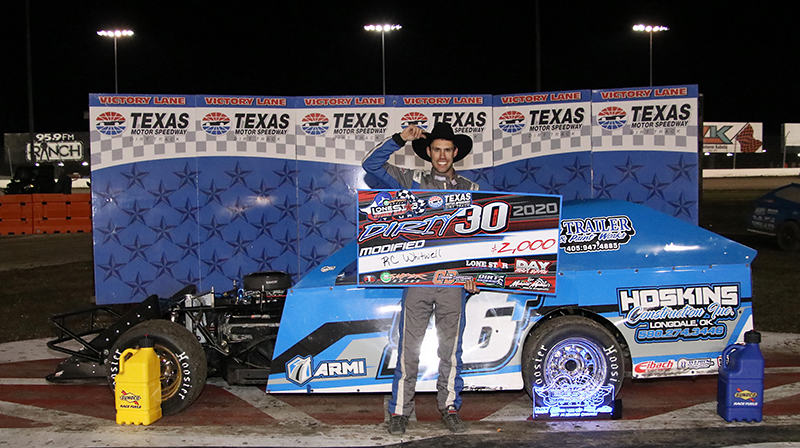 Andy Rowdy Day checked out on the rest of the field in the $1,000 to win Smiley's Racing Products Southern SportMod feature, using every lane on the oval in the wire to wire victory.
Steven Nabors was second, Paul White third.
Feature Results
Stock Cars – 1. Westin Abbey; 2. Ryan Powers; 3. Jeffrey Abbey; 4. Derek Green; 5. Abe Huls; 6. Dean Cornelius; 7. Buck Schafroth; 8. Chad Schroeder; 9. Gary Williams; 10. Wayne Landheer; 11. Wayne Dotson; 12. Dean Abbey; 13. Angel Munoz; 14. Jason Rogers; 15. Keith Heaslet; 16. Colton Obregon; 17. Justin Graves; 18. Troy Burkhart; 19. Blake Clark; 20. Kevin Flock; 21. Hesston Shaw; 22. Todd VanEaton; 23. Matthew Rickey, Commerce; 24. Mike Petersilie; 25. Elijah Zevenbergen; 26. Shelby Williams; 27. Brian Blessington; 28. Curt Lund; 29. Kyle Falck; 30. Travis Baird.
Modifieds – 1. R.C. Whitwell; 2. Anthony Roth; 3. William Gould; 4. Jon White Jr.; 5. Shane DeMey; 6. Brint Hartwick; 7. Dustin Robinson; 8. Mike Petersilie; 9. Jim Cole; 10. Ethan Braaksma; 11. Clay Money; 12. Jason Wolla; 13. Josh McGaha; 14. Drew Armstrong; 15. Eric Tomlinson; 16. Mark Carrell; 17. Chad Melton; 18. Nick Roberts; 19. Jesse Sobbing; 20. Jim Thies.
Southern SportMods – 1. Rowdy Day; 2. Steven Nabors; 3. Paul White; 4. Kevin Manning; 5. Brandon Blake; 6. James McCreery; 7. Kevin Ward; 8. Dean Abbey; 9. Brandon Watson; 10. Christopher Stewart.; 11. Gregory Muirhead; 12. Justin Nabors; 13. Mark Patterson.