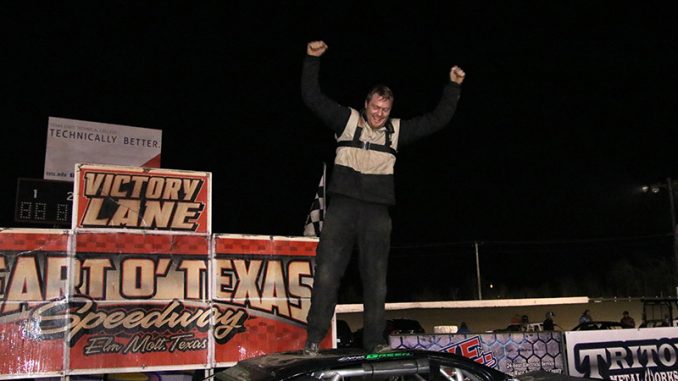 WACO, Texas (Feb. 16) – Night two of the Sniper Speed Lone Star Tour saw Derek Green make a second stop in victory lane.
Green led the last 10 laps of Sunday's IMCA Sunoco Stock Car feature at Heart O' Texas Speedway, earning $1,000. He'd started the 30-lap main event from 11th after winning his 'B' race and had taken over the front spot just before a turn three incident that eliminated challengers Dean Cornelius and Angel Munoz.
Jeffrey Abbey raced from 19th starting to second, Abe Huls from 14th to third and Westin Abbey from 17th to fourth.
"This definitely feels good," said Green, winner of the Friday Ice Breaker and runner-up in the Saturday tour opener at Abilene Speedway. "I came down here with zero dollars and a credit card. The last few nights we've made some money and bought some tires and fuel."
Munoz had led the first 13 circuits before crossing the stripe in a dead heat with Green on lap 14.
The Colorado speedster was back at the point when the next five laps were scored but was shuffled back to third by Cornelius and Green.
Green was at the front a lap later, when the race was stopped by the final caution. Jeffrey Abbey ran second the rest of the way with Huls taking over third with eight to go. Saturday winner Westin Abbey raced his way into the top four just after midway.
Dean Abbey was fifth. Seventy-seven Stock Cars competed at HO'T.
A four-car shootout ended with Jon White Jr. getting the $1,000 IMCA Modified win and Fast Shafts All-Star Invitational berth.
The Red Oak charger passed Chase Allen with six laps to go and took the win ahead of Anthony Roth. Allen and William Gould were right behind.
"It was awesome. I have a lot of respect for those guys," said White, who got his second career win in the division in what proved to be a back and forth, bumper to bumper barnburner. "There was a lot of respect given by the four cars racing for the lead. There was a lot of give, there was a lot of respect and it was a damn good race."
White made just four Modified starts last year and will chase national rookie of the year honors in 2020.
"It was time to move up," he said, noting help from sponsors. "We're all in this year. We've already got the hotel booked for Boone."
Michael Ables started 15th and finished fifth. Allen led the first half of the race before giving way to Saturday winner Jesse Sobbing, who then exited after rolling to a stop during the second of two lap 13 cautions.
And Gabe Tucker won his third Smiley's Racing Products Southern SportMod feature in as many nights after contact with challenger Dean Abbey coming out of the final turn.
After leading the last 19 of 20 laps, Tucker took the checkers by less than a car length. Abbey, 12th starting Tommy Davis Jr., 15th starting Kaden Honeycutt and 11th starting Kevin Manning were scored next.
Feature Results
Stock Cars – 1. Derek Green; 2. Jeffrey Abbey; 3. Abe Huls; 4. Westin Abbey; 5. Dean Abbey; 6. Benji Kirkpatrick; 7. Ryan Powers; 8. Eric Rempel; 9. Dean Cornelius; 10. Caleb Crenshaw; 11. Aaron Benedict; 12. Jason Josselyn; 13. Elijah Zevenbergen; 14. Troy Burkhart; 15. Jimmy Gustin; 16. Chris Ullrich; 17. George Egbert; 18. Cody Thompson; 19. Jeff Mueller; 20. Gary Williams; 21. Angel Munoz.
Modifieds – 1. Jon White Jr.; 2. Anthony Roth; 3. Chase Allen; 4. William Gould; 5. Michael Ables; 6. Mike Petersilie; 7. Tyler Iverson; 8. Jim Cole; 9. Brent Gilliam; 10. Justin Radcliff; 11. Chris Elliott; 12. Shane DeMey; 13. Jesse Sobbing; 14. Brint Hartwick; 15. Jeffrey Abbey; 16. Chad Melton; 17. Jason Wolla; 18. Brandon Aggen; 19. Ethan Braaksma; 20. John Webb; 21. Jim Thies.
Southern SportMods – 1. Gabe Tucker; 2. Dean Abbey; 3. Tommy Davis Jr.; 4. Kaden Honeycutt; 5. Kevin Manning; 6. Austen Becerra; 7. Cody Thompson; 8. Christopher Stewart; 9. Brandon Tharp; 10. Jay Coone; 11. Brantley Beatty; 12. Kaine Buckmeyer; 13. Kevin Ward; 14. Brandon Blake; 15. Shawn Graham; 16. Gregory Muirhead; 17. Wes Cummings; 18. Kyle Wilkins; 19. Mark Patterson; 20. Dan Day; 21. Matthew Day; 22. Justin Nabors.