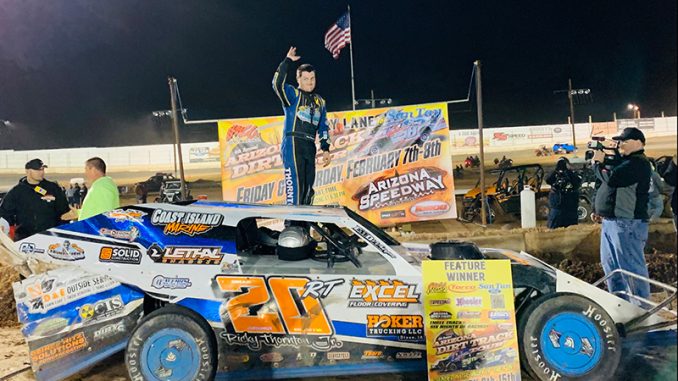 SAN TAN VALLEY, Ariz. (Feb. 8) – Ricky Thornton Jr., Chanse Hollatz and Cody Thompson all took another step up on the podium Saturday at Arizona Speedway. 
Each had been runner-up in IMCA Arizona Dirt Track Tour features on opening night, then turned in checkered flag performances on night two at San Tan Valley.
Thornton reeled in Drew Armstrong to win the IMCA Modified main event and $2,000. Hollatz domi­nated from the start of the 20-lap IMCA Sunoco Stock Car headliner and Thompson got the best of Tyler Soppe and Brian Osantowski in the Karl Kustoms Northern SportMod show, which also paid $750 to win.
After two early cautions, Armstrong led the first 16 laps of the Modified main with Thornton and Friday winner Chaz Baca close behind.
Thornton, already on the Fast Shafts All-Star Invitational ballot, was anything but shy about run­ning the extreme top side of the oval before he slid inside Armstrong on the second set of turns and led the last nine times around the track. Baca stole the second spot away on the last lap, with Casey Arneson and D.J. Shannon completing the top five.
Hollatz led green to checkered in a Stock Car feature that ran caution-free the final 10 laps. Thornton was next across the stripe, nearly three seconds off the pace, with Brendon LaBatte, Zachary Madrid and Kevin Roberts scored next.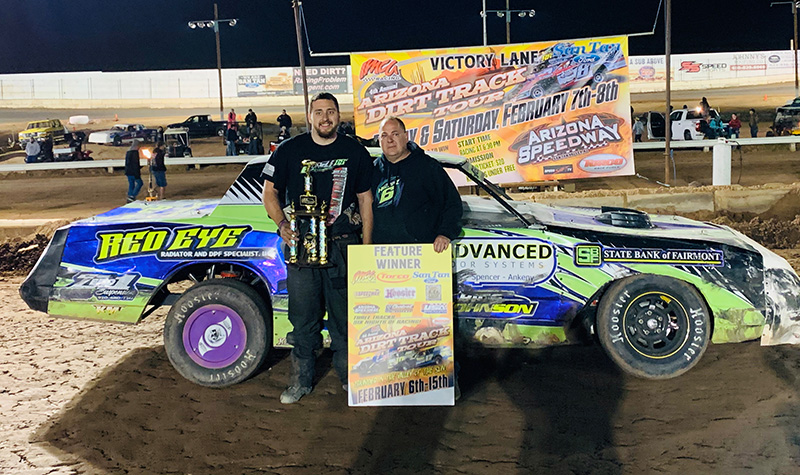 And Thompson continued his tear through the Southwest after starting eighth. He caught Friday winner Osantowski, then Soppe on lap 12 and pulled away to the latest checkers.
Soppe was second, with Osantowski, Fred Ryland and 13th starting Clay Erickson next.
Night two again brought 100-plus IMCA entries to Arizona Speedway.
Feature Results
Modifieds – 1. Ricky Thornton Jr.; 2. Chaz Baca; 3. Drew Armstrong; 4. Casey Arneson; 5. D.J. Shannon; 6. Lance Mari; 7. Bricen James; 8. Casey Skyberg; 9. Zachary Madrid; 10. John Han­sen; 11. Bryson Curry; 12. Jason Noll; 13. Alex Stanford; 14. Spencer Wilson; 15. Austin Kuehl; 16. Kelsie Foley; 17. Clay Norris; 18. Joey Price; 19. Christy Barnett; 20. Mike Wedelstadt; 21. Russell Allen; 22. Chase Alves; 23. Ethan Dotson; 24. Tim Ward.
Stock Cars – 1. Chanse Hollatz; 2. Ricky Thornton Jr.; 3. Brendon LaBatte; 4. Zachary Madrid; 5. Kevin Roberts; 6. George Fronsman; 7. Cody Center; 8. George Fronsman Jr.; 9. Eric Lloyd; 10. Craig Miller; 11. Arron Hetrick; 12. Josh Werkmeister; 13. Wayne Clink; 14. Steve Soboski; 15. Raymond Doyle; 16. Sean Gentry; 17. Andrew Mathers; 18. Andrew Burg.
Northern SportMods – 1. Cody Thompson; 2. Tyler Soppe; 3. Brian Osantowski; 4. Fred Ryland; 5. Clay Erickson; 6. Kelly Henderson; 7. Michael Soboski; 8. Ty Rogers; 9. Taylor Kuehl; 10. Shelby Frye; 11. Speedy Madrid; 12. Brady Bjella; 13. Darin Center; 14. Patti Ryland; 15. Slade Pitt; 16. Cory Van Zante; 17. Tate Johnson; 18. Kyler Reynolds; 19. Justin Erickson; 20. Bo Par­tain; 21. Austen Becerra; 22. Ben Stockton; 23. Chris Theodore; 24. Michael Egurola.