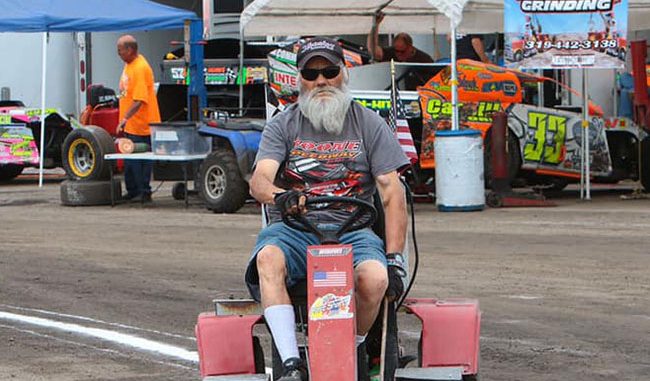 BUCKEYE, Iowa – Memorial services are yet to be scheduled for Larry Larson but when they're held, friends will have countless stories to share of the race fan, pit crew member and National Anthem singer.
Larson, 59, passed away Tuesday, Jan. 21 at his home in Buckeye. White-bearded and almost always wearing a Rick Brown T-shirt, he was known for painting the lines in the pit area at Boone Speedway as well as singing The Star Spangled Banner at race tracks across the state.
"He was a fan turned crew member turned friend," said long-time IMCA Sunoco Stock Car driver Brown. "Larry was at home when he was at the race track. He'd go up and down the pits and talk to everybody. He wished everybody good luck."
After the races were over, Larson joined more than a few drivers for victory lane photos, often displaying the checkered flag.
Jerry Vansickel met Larson in the mid-1980s at an area go kart track. They'd become friends and frequent travel partners to tracks where Vansickel announced.
"Larry's passion for the sport was second to none. He enjoyed the races and singing the National Anthem, but what he enjoyed most was the people," related Vansickel. The number of people who knew him was just amazing. Larry was just a good, honest, wholesome human being. He was a great guy and liked by everybody."
The Boeke Funeral Home is in charge of arrangements.