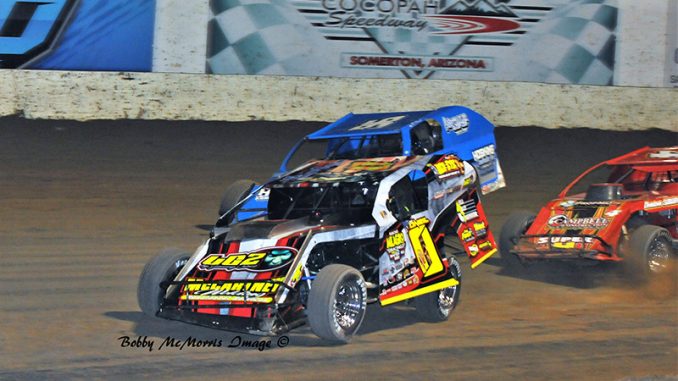 By Mike Spieker
SOMERTON, Ariz. (Jan. 17) – Jake O'Neil cruised to his third Winter Nationals victory Friday night at Cocopah Speedway.
O'Neil started third on the grid and took the lead away from front row starter Joey Price on lap three. Once out front, the Tucson pilot never looked back as he led the remainder of the 25-lap, $1,000 to win main event.
Eighth place starter R.C. Whitwell moved into second at the halfway point, but was never able to threaten the leader. O'Neil was loyal to the low side of the speedway throughout the race while Whitwell used the high side in the entry of the corner before diving low on exit.
The margin of victory for O'Neil was 2.2 seconds over Whitwell at the checkers.
"I saw on the scoreboard that the 96 (Whitwell) was behind me. He is super fast and a pretty good wheelman and I knew if I made one mistake, he would be right there to capitalize," said O'Neil. "I just tried to minimize my mistakes as much as I could. It was pretty tough, I was a little too tight and I would hit the holes sometimes and go for a big push. Every time I did that, I thought I was giving it away."
Behind Whitwell, Tim Ward finished third from 16th, while 17th place starter Tom Berry Jr. and Price rounded out the top five.
Chanse Hollatz started on the pole and led all 20 laps of the IMCA Sunoco Stock Car feature en route to his first Winter Nationals victory.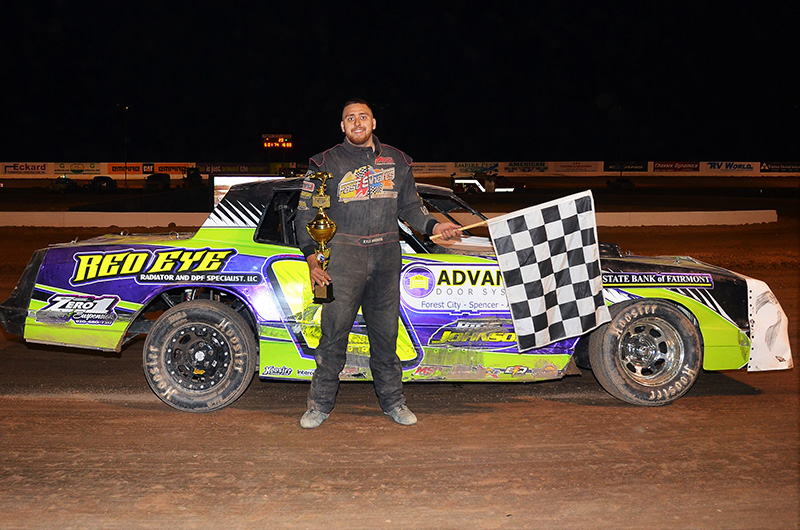 Similarly, Cody Thompson led the Karl Kustoms Northern SportMod feature from green to checkers to pick up his second win of Winter Nationals.
Tim Gonksa wasted no time powering his way into the lead from the sixth starting spot in the IMCA Sunoco Hobby Stock feature. Gonska led 18 of the 20 laps to capture his third win at Somerton.
Feature Results
Modifieds – 1. Jake O'Neil; 2. R.C. Whitwell; 3. Tim Ward; 4. Tom Berry Jr.; 5. Joey Price; 6. Lance Mari; 7. Zane DeVilbiss; 8. Kollin Hibdon; 9. Austin Kuehl; 10. Jeff Taylor; 11. Bobby Horton; 12. Bill Miller; 13. Jerry Flippo; 14. Darrell Hughes II; 15. Russell Allen; 16. Casey Arneson; 17. Beau Speicher; 18. Michael Thing; 19. Tyson Evans; 20. Mike Magee; 21. Spencer Wilson; 22. Austin Kiefer; 23. Braxton Yeager; 24. Travis Mosley; 25. Chaz Baca; 26. Marlyn Seidler.
Stock Cars – 1. Chanse Hollatz; 2. Troy Jerovetz; 3. Wayne Dotson; 4. Aaron Spangler; 5. Andy Altenburg; 6. Jody York; 7. Brendon LaBatte; 8. Steffan Carey; 9. Leslie Gill; 10. Loren DeArmond; 11. Tony Hill; 12. Gene Henrie; 13. Cody Center; 14. Nuggett Shupe; 15. Tyler Vache; 16. Brock Hamilton; 17. Raymond Doyle; 18. Jake Smith; 19. J.C. Parmeley.
Hobby Stocks – 1. Tim Gonska; 2. Brad King; 3. Joshua Cordova; 4. Jason Duggins; 5. Jason Beshears; 6. Scott Tenney; 7. Jim Robinson; 8. Jason Penny; 9. Oscar Duarte; 10. Francisco Cordova; 11. David Callis; 12. Jeffrey Callis; 13. Andy Pearce.
Northern SportMods – 1. Cody Thompson; 2. Chase Alves; 3. Ty Rogers; 4. Chris Toth; 5. Shelby Frye; 6. Miles Morris; 7. Ron Schreiner; 8. Taylor Kuehl; 9. Mike Wells; 10. Camron Spangler; 11. Bill Lundock; 12. Kyle Salo; 13. Manny Baldiviez; 14. Brian Carey; 15. Slade Pitt; 16. Brock Rogers; 17. Jimmy Davy; 18. Javier Navarro; 19. Wayne Dotson; 20. David Pitt.